Asterisk Kitchen wins big with new vegan grissini for foodservice market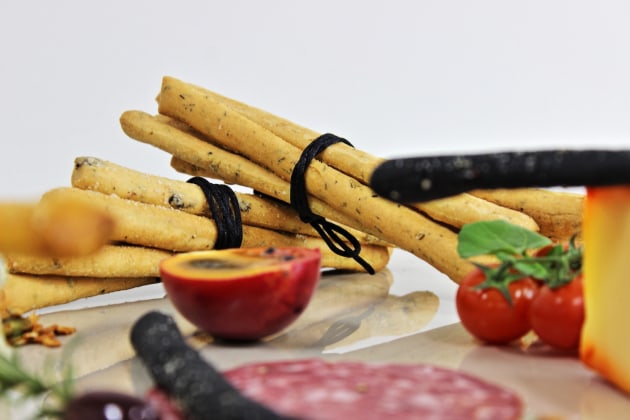 Melbourne maker of artisanal snack foods and French treats, Asterisk Kitchen, is celebrating after its range of vegan grissini was awarded a silver medal at the 2018 Australian Food Awards.
Asterisk Kitchen's range of lavosh (crackers and cispbread) and langues de chat (gluten-free baked goods) also one silve and bronze respectively.  
This is the third year in a row that Asterisk Kitchen has secured awards at this prestigious competition.
Baked in small batches by French-born chef and co-founder Younes Khazour and his team in their Croydon premises, the crunchy and aromatic grissini is preservative-free and available in 300 gram packets.
Designed to be paired with cheese, wine and charcuterie, the range has been made to match particular flavours and grapes.
Asterisk Kitchen's kalamata olive and rosemary grissini is the perfect accompaniment to:

White wine: Chardonnay, riesling, sparkling, and pinot gris;
Red wine: Pinot noir, shiraz, tempranillo, zinfandel, and carignan;
Cheese: English Stilton, Roquefort, mild asiago, and Parmesan;
Charcuterie: Sopressa, copa, and saucisson sec.
The carrot and cumin grissini pairs well with:
White wine: Chardonnay, riesling, sauvignon blanc, sparkling, and viognier;
Red wine: Pinot noir, rioja, shiraz, tempranillo, and zinfandel;
Cheese: Cheddar mature, Manchego, Taleggio and goat fresh;
Charcuterie: Sopressa, salami hot, and San Daniel prosciutto.
The complete Asterisk Kitchen grissini range includes activated coconut charcoal, fennel and thyme, kalamata olive and rosemarey, and carrot and cumin.