Allpress Espresso releases new packaging for foodservice coffee range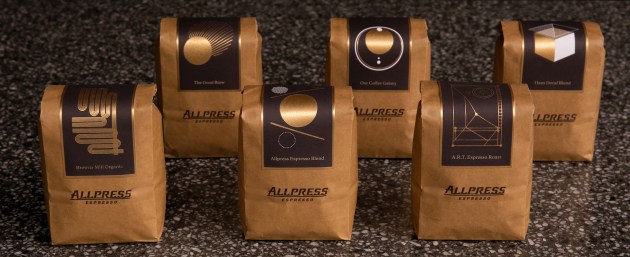 Coffee roasters, Allpress Espresso, has unveiled its new look packaging for their range of coffee for the foodservice and hospitality market.
Designed by Allpress Espresso's Kim Getley and Rob Lockyear, the global packaging has been streamlined using bold graphics and gold colouring to identify each of Allpress Espresso's coffee blends and roasts. 
This coffee range comes in 3 kilogram bags and includes Allpress Espresso Blend; A.R.T. Espresso Roast; The Good Brew; Browns Mill Organic; Haus Decaf; and Our Coffee Galaxy.
Greg Glubb, general manager for Allpress Espresso Australia is thrilled with the brand's reimagined coffee range. 
He says, "We have always respected that coffee is a treasured ritual for many people, and the quality of their morning flat white or long black can affect the rest of their day.
"That is why we design for flavour, and coffee lovers can confidently go into any of the one-thousand plus cafes we supply around the world and know they will get a great brew.
"In an increasingly, and unnecessarily, complicated world we also wanted to use our experience and expertise to deliver a simple and approachable offering.
"Then finding a favourite is over to you - whether choosing for home or your cafe - there is something for everyone to get excited about."
For further information, please visit au.allpressespresso.com/wholesale-supply.