Women in Foodservice Awards 2019 winners announced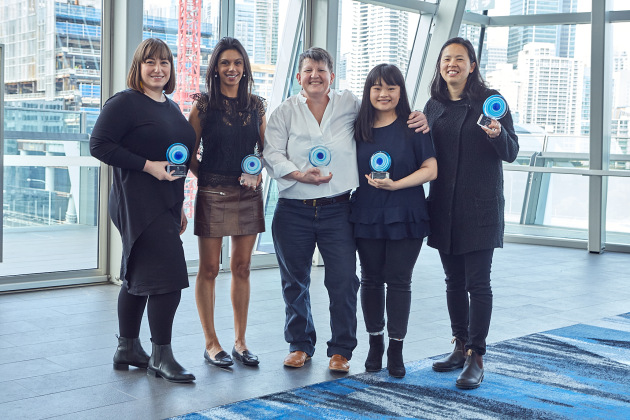 This year, Foodservice Magazine's Women in Foodservice Awards were held at a charity women's brunch at Fine Food Australia in Sydney. 
A panel discussion, led by Jill Dupleix, kicked the day off with a discussion about what professional and personal success means to panelists Kylie Javier Ashton, Jacqui Challinor, Janelle bloom and Kate Gibbs, before the winners were announced and celebrated.
Since its inception in 2017, the Women in Foodservice Awards have aimed to identify and promote excellence, success and outstanding contributions to the industry. It's not just about doing the job well, but going above and beyond to be a mentor and role model, provide memorable experiences, and add something new to Australia's dining landscape.
Thank you to our partners Fine Food Australia, Australian Pork, Lion, Stoddart and William Angliss, as well as our major partner, Nestlé Professional, for their support in putting together such an important initiative.
Full list of winners and finalists:
Leadership in Foodservice – presented by Nestlé Professional
 WINNER: Shannon Martinez, Chef and owner at Smith and Daughters, (VIC)  
Emma Yee, Chief executive officer at Peter Rowland, (VIC)
Carolyn Hopkins, Corrective Services Industries senior overseer of catering at Long Bay Correctional Centre, (NSW) 
Restaurant Manager of the Year – presented by Australian Pork
WINNER: Rami Heer, Restaurant manager and owner at Vintners Bar and Grill, (SA) 
Michelle Wu, Restaurant manager at Ishizuka, (VIC)
Madeleine Morgan, Restaurant manager at Pt. Leo Estate,
(VIC)  
Outstanding Service – presented by Lion 
WINNER: Leanne Altmann, Beverage director at Andrew McConnell restaurants, (VIC) 
Alice Chugg, Sommelier at Ettie's, (TAS) 
Sian Potsig, Restaurant manager at Nomad, (NSW) 
Rising Star – presented by William Angliss
WINNER: Nina Huynh, Chef de partie at Yellow, (NSW)
Stephanie Haile, Beverage manager at Merivale's The Royal Hotel and Totti's (NSW)
Hayley McCarthy, Sommelier at IDES, (VIC) 
Chef of the Year – presented by Stoddart
WINNER: Thi Le, Chef and owner at Anchovy, (VIC)
Sascha Randle, Head chef at Meatsmith, (VIC)
Danielle Alvarez, Head chef at Fred's (NSW)
Legend of the Industry – presented by Fine Food Australia 
WINNER: Annie Smithers, Chef and owner at Du Fermier, (VIC) 
Nat Paull, Baker and owner at Beatrix, (VIC) 
Rachel Duffy, Group general manager at Icebergs, (NSW)