Top 12 young Australian winemakers named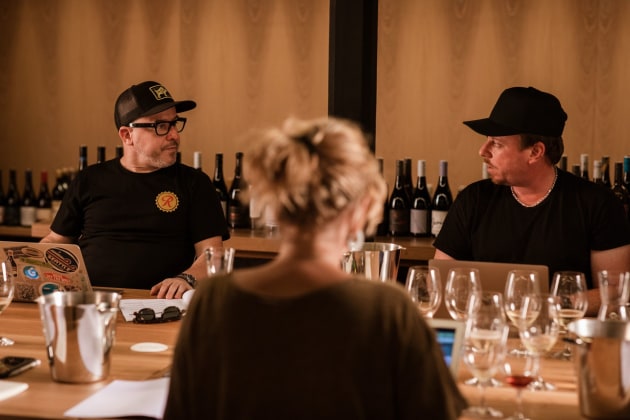 The top 12 winemakers in the Young Gun of Wine award have been announced. Following a nationwide search for the best young winemakers in the country, 50 have been narrowed down to 12, with representation from across all corners of Australia.
While they mainly came from Western Australia, South Australia and Victoria, Queensland claimed a stop in the top 12 for the first time in Andrew Scott from La Petite Mort in the Granite Belt Region.
Despite the fact that only 10 per cent of Australia's winemakers are women, four female winemakers grace the final 12, including winemaking duo Liv Maiorana and Mijan Patterson from South by South West, Vanessa Altman from Switch Organic Wine and Genevieve Mann from Corymbia.
To name the top 50, this year's judging panel tasted 250 wines over two days in Melbourne. The panel included Rory Kent (Founder of YGOW), Nick Stock (Chief Judge, Gourmet Traveller WINE), Mike Bennie (Owner of P&V Liquor Merchants and writer for Gourmet Traveller, Delicious), Pip Anderson (MONA), Josephine Perry of Dormilona (2016 Young Gun of Wine winner), Rob Mack of Aphelion Wine Co (2018 Young Gun of Wine winner), Penny Grant (Ghanem Group sommelier), and international guest judge, Leah Rinadli from USA's leading distributor of natural wines, Jenny & Francois.
The judges met again following a public tasting event in Melbourne this month to narrow the list again. The top 12 will now shoot for the top Young Gun of Wine 2019 title, but all in the top 50 will be up for the other titles: Best New Act, Winemakers' Choice, People's Choice (voted by the public), and "First Drop" Danger Zone award, which is given to the most adventurous winemaker of the group.
The top 12 winemakers (via state) are as follows:
QUEENSLAND
- Andrew Scott from La Petite Mort, Granite Belt (Muscat / Gewurztraminer, Durif / Mataro)
SOUTH AUSTRALIA
         -  Damon Koerner from Koerner Wine, Clare Valley (Riesling, Sangiovese / Grenache / Sciacarello / Malbec)
         -  Sacha La Forgia from Adelaide Hills Distillery, Adelaide Hills (Chenin Black, Chenin Blanc / Syrah / Grenache)
         -  Vanessa Altmann from Switch Organic Wine, Eden Valley / McLaren Vale (Pinot Noir, Viognier)
VICTORIA 

         -  Ben Ranken from Wilimee, Macedon Ranges (Chardonnay, Pinot Noir)
         -  Jayden Ong from Jayden Ong/One Block, Yarra Valley (Pinot Gris, Syrah)
         -  Shaun Crinion from Dappled Wines, Yarra Valley (Chardonnay, Pinot Noir)
         -  Simon Killeen from Simao & Co Wines, Rutherglen / North East Victoria (Sauvignon Blanc, Pinot Noir)
WESTERN AUSTRALIA 

         -  Genevieve Mann & Rob Mann from Corymbia, Swan Valley (Chenin Blanc, Tempranillo / Malbec / Cabernet Sauvignon)
         -  Liv Maiorana & Mijan Patterson from South by South West, Margaret River (Chardonnay, Malbec / Cabernet Sauvignon / Shiraz / Petit Verdot)
         -  Remi Guise from tripe.Iscariot, Margaret River (Chardonnay, Syrah)
         -  Rhys Parker & Paul Hoffman from Swan Valley Wines / Vallée du Venom, Margaret River / Swan Valley (Chenin Blanc, Cabernet Franc)