The restaurant that never sleeps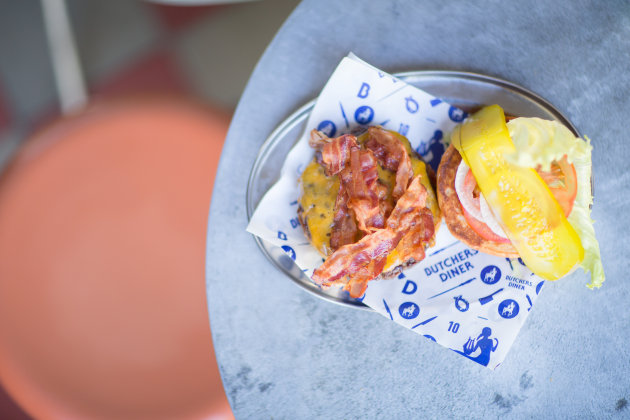 Butchers Diner in Melbourne is profoundly popular, especially with the city's hospitality workers. Why? Aside from its superb steak sandwiches, charcoal grilled ox tongue and duck heart skewers, and dry-aged cheeseburgers with snap-crisp bacon, it's also open 24/7. Nick Buckley speaks to co-owner Con Christopoulos and chef and co-owner Steve Lichter about how they run the part-butcher, part-restaurant, which hasn't closed since it opened.
It's 3am. Maybe you've just finished scrubbing down the kitchen or polishing the bar top. You're hungry, but the bright fluorescence of international fast food chains seems a poor reward after a tough service.
But at the top of Bourke Street in Melbourne is Butchers Diner, and waiting for you is a steak from Cape Grim, which has been carved from the whole beast in house.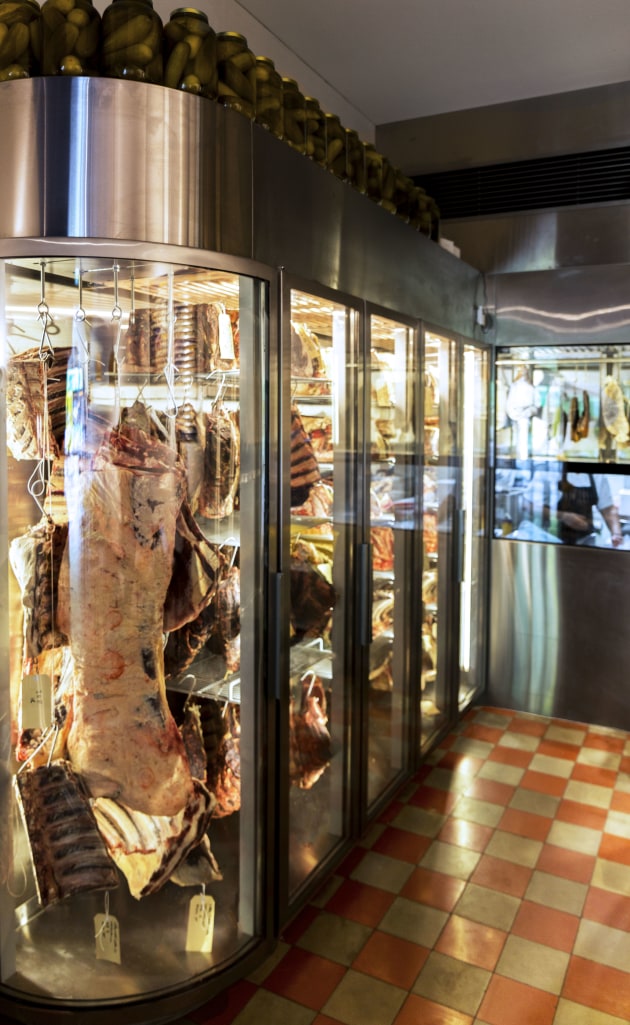 Whether you want a blood sausage and devilled egg roll or a Coney Island chilli dog, Butchers Diner is open 24 hours a day, 365 days a year. But it's more than just a late night grill, it's a functioning butcher that supplies top-shelf meat to Melbourne's European Group venues, which include City Wine Shop, Siglo, Supper Club, Spring Street Grocer, Kirk's Wine Bar and French Saloon.
Initially the space was acquired out of necessity by European Group co-owner Con Christopoulos to diffuse a back-of-house war. A commissary kitchen located behind his Spring Street Grocer was being shared between a group of gelati makers and Simon Poole, Christopoulos's in-house butcher.
"Gelati and a bloody butchery don't quite go. I've got these passionate Italians going, 'Where's my spoon? Where's my this? Where's my that?' and then they've got to sanitise everything over again. So I promised I'd get the butcher guys out," says Christopoulos.
After taking over the narrow, high-ceilinged property in 2017 for the Group's meat HQ, they still needed a way to pay the rent.
Christopoulos soon expanded the team's initial idea of a small burger shop to one that was always open, reviving his childhood memories of the 24-hour Embassy Café on Spencer Street, where his dad Harry regularly took him for cheeseburgers and Dim Sims – both served at Butchers Diner today.
"Those sorts of businesses – I have a soft spot for them," says Christopoulos. "The synergy, and the energy, and the kookiness of it all."
You can find a meal to suit every hour of the day at Butchers Diner. Chirstopoulos recommends truffled scrambled eggs for breakfast, the falafel salad for lunch, and grilled pork neck and shoulder skewers with raw onion, parsley, lemon juice and olive oil at dinner.
Elsewhere on the menu you'll find a Creole salmon cutlet next to a Reuben sandwich or a simple wedge of chargrilled broccoli – all developed by executive chef and co-owner Steve Lichter (also the late night chef at the Supper Club next door). Lichter's burgers in particular have developed a cult following.
"People always go on about how good the burgers are but there's only three ingredients in them," says Lichter. "Two types of beef, salt and pepper. The reason they're so good is because [Poole] minces them … and then we're serving them within 24 to 48 hours, rather than buying in mince that's been sitting in a bag for who knows how long."
In fact very little arrives at the restaurant pre-cut. Whole animals are delivered at 4am every day, which Poole breaks down into cuts that then rest in Butchers Diner's dry ageing display for up to three months. Beef, pork and wild-shot venison from the Yarra Valley all get the aging treatment.
"It's just nurturing the product. It does it by itself, losing moisture and intensifying the flavour," says Lichter.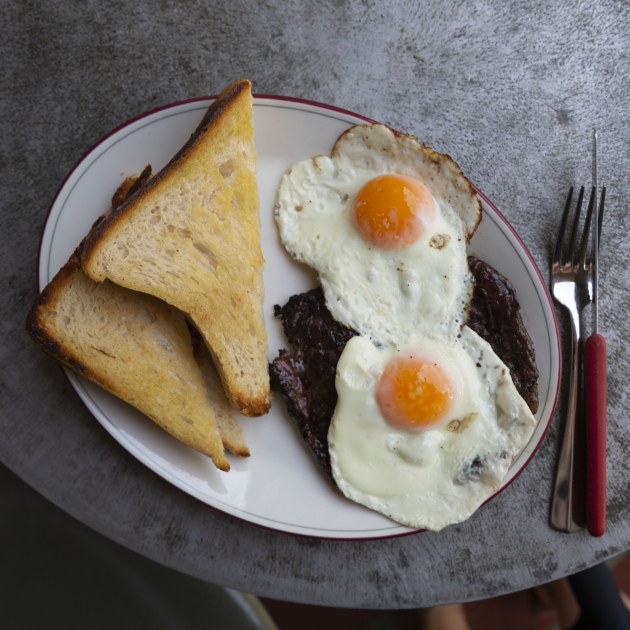 But Lichter says the advantages of ordering in whole beasts goes beyond freshness or aging. It also allows the kitchen to maximise profits on every part of an animal.
Offcuts like meat from the shoulder, between the ribs, and the chain running along the porterhouse go into the burger patties, along with some Robbins Island Wagyu body fat. Lichter says that when you pay for a premium cut of beef you're not just paying for what arrives in the kitchen on delivery day, but also the parts of the animal that never get sold.
"If you just buy in the different products cryovacced, you're missing out on all the bits and pieces you can use to make a special, to cut down on the final cost of what you paid for an animal," says Lichter.
"That's what being a chef is. It's not like, 'Here's the eye fillet that we bought in, cryovacced it, cut it to a certain weight, cooked it and presented it', it's what you do with the rest of the animal to make real money."
But while there are benefits to having a butcher on site, running a 24-hour venue presents its own challenges – staffing for starters. Overlapping chef shifts run from 6am to 2pm, 9am to 5pm, 4pm to 12am, 8pm to 4am and the red-eye 10pm to 6am.
"It's amazing when you come back in the next day, even though you've gone home and got some good sleep, it's actually been open the whole time," says Lichter. "It's good because you come in fresh but the guy who's leaving is getting ready for bed. It's bizarre but it's interesting that way."
In fact Lichter used his key for the first time in two years one night in late May, when the crew needed to vacate for a mandatory power upgrade. But they didn't take the night off, they ran service as usual around the corner in the European instead.
Kitchen hands at Butchers Diner are also trained to cook so they can step up if there's only one chef. If a chef moves on, a kitchen hand will likely move up to take their position.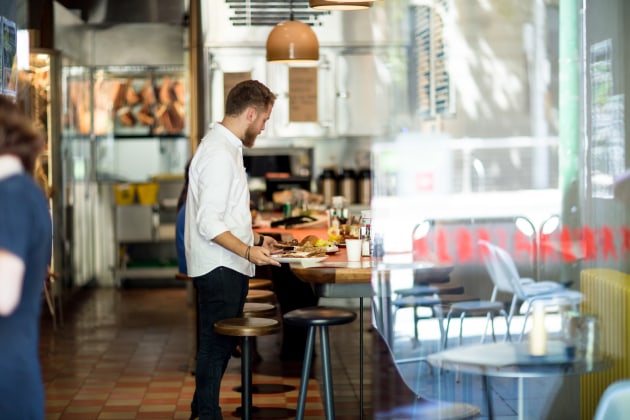 Another challenge with a business that's always in business: cleaning.
Cleaners come across from the neighbouring European Group venues in the wee hours of the morning to do the daily scrub down amongst the chefs, when the restaurant is quiet – something that has been made quicker and easier by Christopoulos's clever kitchen design. The floor is moulded up against all the equipment to stop scraps escaping underneath, making mopping a 10-minute job. All that's left then is the stainless steel, which is all custom-made with curved edges throughout the kitchen, to avoid bruised hips.
Butchers Diner is heavily tied to the European Group culture, although not technically part of it.
The butchery space and dry-ageing stores are used by the Group and have been incorporated into its training programs. In the European Group staff room, sign up sheets are available for butchery lessons from Poole, from sausage making to identifying cuts and breaking down a whole animal.
"Your staff are your greatest resource any way you look at it. So if you can keep them interested, happy, and learning, they tend to stay longer," says Christopoulos.
Respect for staff extends to the wider hospitality community too. There's a Monday "Staff Meal" special that's a nod to the many industry folk who frequent the venue, which has also become a fixture on the Instagram accounts of Melbourne's notable chefs.
"Even though it's 24/7, it's not that crazy. It's turned into a well-oiled machine," says Lichter. "A lot of hospo people respect what we do, and having a beer at the end of their nights creates a good atmosphere."
This article was first published in foodservice's June 2019 issue. Read the digital magazine here.