Sydney's Alberto's Lounge is a lesson in the importance of identity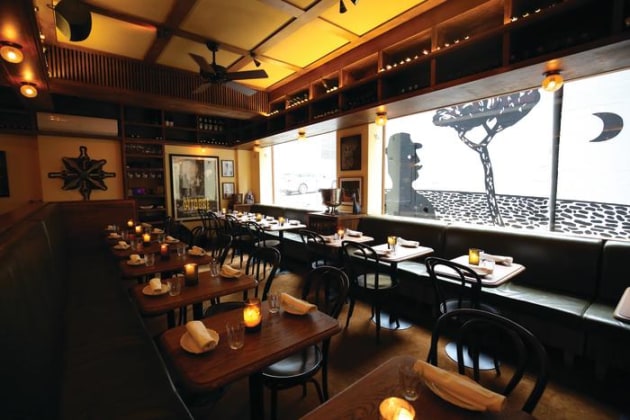 The prolific Swillhouse restaurant group was behind one of Sydney's most anticipated restaurant openings of 2018. Alberto's Lounge has all the personality and flare of a dive bar, with warm service, elegant food, and a killer wine list. As Yasmin Newman reports, this magical combination is made into a virtue by chef Dan Pepperell and co-owners Anton and Stefan Forte.
Since the Swillhouse group opened party bar Shady Pines Saloon in 2010, they've delivered Sydney knockout after knockout: the Baxter Inn, Frankie's Pizza, Restaurant Hubert, boom boom boom. Since then, they've jumped categories with dexterity – from small bar to cocktail lounge, pizza parlour and fine diner – and have developed a reputation for flamboyance, atmosphere and wide market appeal along the way. So when word hit that they were opening an Italian restaurant, expectations were high.
The flames were fuelled by news that Dan Pepperell, who'd delivered a wildly inventive yet time-honoured French menu as executive chef at Hubert (with dishes like kimchi gratin and whole-bird chicken fricassée), was returning to his culinary true love: Italian. The Italophile had established a cult following for his take on la vera cucina as head chef at 10 William St, and at the group's new venture, in the former site of Italian darling Berta, he would do it again.
Alberto's Lounge, named for its predecessor and its setting on Alberta Street tucked between Surry Hills and Central, opened its doors in late 2018. It was everything and nothing the public had imagined, which has always been the group's greatest skill.
Anton and Stefan Forte, brothers and two parts of the hospitality collective (along with general manager Toby Hilton) grew up in an Australian-Italian household. "We always intended to do Italian," says Stefan. By all accounts, the guys have a number of ideas on the go at any one time, but here the space dictates the concept, not the other way around.
Take Hubert: in 2015, the group was toying with ideas for a nightclub, but when they found the grand, cavernous building in the CBD, they shifted gears. "It called for a big, special restaurant," recalls Stefan. "We thought something that Sydney doesn't have is old-world classic French." So Hubert was born.
Alberto's Lounge, by contrast, yearned for something intimate. Stefan said they'd frequented Berta for years and when they saw the space again as prospective owners, it likewise had a predetermined destiny as a small Italian restaurant-meets-wine-bar.
Once the idea was locked, production design – another Swillhouse strength – kicked in. "We start with a rough idea of what we want to achieve on a whole and play that out through art, design, music, drinks and food," explains Stefan. Essentially, all the senses are targeted. (If they are ever looking for another vocation, Hollywood is calling.)
"We wanted Alberto's to be fun, but also kind of off-tilt and kooky. Not fully Italian, but our take on it." Stefan says they referenced Fellini films, old Italian comedies and Italo disco, and included a lot of personal pieces from their own homes in the fit-out. Anton's wife Allie Webb, another Swillhouse contributor, also created the menu design and painted a striking black-and-white laneway mural overlooking Alberto's vast window. "We usually go full-on theme with our venues, but we wanted Alberto's to feel more like a neighbourhood space, somewhere you could pop in for a coffee, a quick glass of wine or a full-blown meal," says Stefan.
Alberto's has all the Swillhouse trademarks – namely the random location and ambiance in spades – but this distinction between 'fully-' and 'semi-' themed (and the mere fact this place has windows and natural light) separates it from the others in the group's oeuvre; it's inherently more personal. "It wasn't intended that way," Stefan clarifies, their Italian heritage and style just naturally swirled in.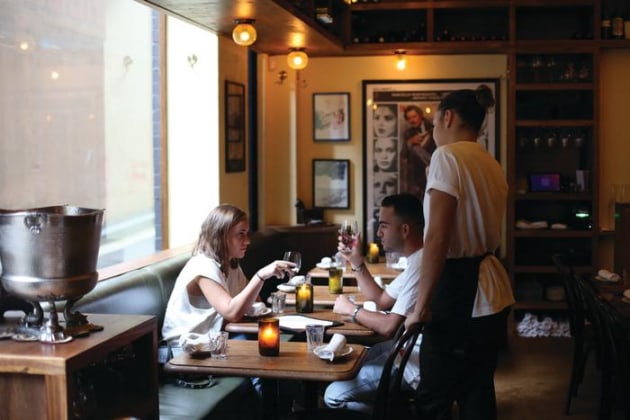 "I fully trust and know it's going to be good, whatever they do," Pepperell says about the brothers' early vision for Alberto's. His confidence is mirrored by Anton and Stefan, who gave the chef carte-blanche with the menu. Personally, he couldn't wait. "French is great," he says, referencing Hubert, but it's not Italian. "Italian is simple and homely, but it's also hard to do really well, which makes it technical and challenging as a cook. It's my passion," says Pepperell.
He geeks out on the regions, too. "I'm really into [food from] Sicily, Emilia-Romagna and Lazio at the moment, but I take inspiration from them all really." But Pepperell does not feel duty-bound to regionality, or authenticity for that matter. "There are plenty of people in Italy keeping it respectful and traditional, but we don't have that shared history here in Australia, so we have a lot more freedom."
That's not to say Pepperell reinvents the wheel; at least half the dishes at Alberto's are classic, from the rigatoni all'Amatriciana with guanciale, tomato and pecorino, to the veal saltimbocca with prosciutto, sage and Marsala. And reading the menu gives diners the impression of generations-old recipes. "It's pretty hard to get classic Italian food in Sydney actually," he says.
When he does mix things up, it's using ingredients that surround him, which ironically is how Italians approach cooking. He names his pandan and young coconut gelato. "It's exactly what Italians would make if they had pandan growing in Rome, they just don't have access to it." Then there's Pepperell's bolognese. "Instead of using salt to season it as they would in Bologna, we have all these other salty condiments, like fish sauce and soy sauce, which add saltiness and savouriness."
Authenticity, in one area at least, has been their Achilles' heel: the entree-size pasta. Portions have been a hot topic in online reviews, but Pepperell says the issue is not the $24 price tag, but expectations. In Italy, meals start with antipasti and follow with a small pasta primi before the main course, and Alberto's menu is designed accordingly. "In Australia, everyone is used to having these main mega pastas. Even though we tell customers, they still order it as a main." Pepperell says they're keeping the entree – they've built their success on doing things differently after all – but adding a main size to nip the issue in the bud.
The chef, who's now full-time at Alberto's, says he's in his element, as the tight, 60-seat space lends itself to spontaneity.
Pepperell changes the menu weekly and introduces specials that sparkle with seasonal produce, like Living Earth Farm figs with prosciutto, hojiblanca olive oil and single-herd buffalo mozzarella from northern NSW. "A tray of figs would last 30 minutes at a big restaurant. Here, we can run it for a few nights."
On Anton and Stefan's side, they never planned to have so many venues. The attention to detail that characterises Swillhouse operations makes that surprising, as it's hard to imagine there wasn't a grand plan in place. "Staff would always ask what's coming next, so in some way, we grew our business to create opportunities for them," says Stefan. "A huge chunk has been with us from the beginning and we always make sure to move people around to build them up, gain new perspectives and keep them interested in the job."
The restaurateur describes their management style as a mutual understanding: have fun with work, but don't take the piss. And while the business has grown organically, they set strong foundations early. "We established very strict systems for how we did things at Shady Pines, from the selection of drinks and the presentation of food to the way we managed the floor, and that has been carried through all our venues," says Stefan.
Alberto's feeds Sydney's current appetite for mid-range dining, but the group doesn't see the industry necessarily moving in that direction. "There is a time and place for all types of dining," says Stefan. And Swillhouse, with perfect panache, caters to them all.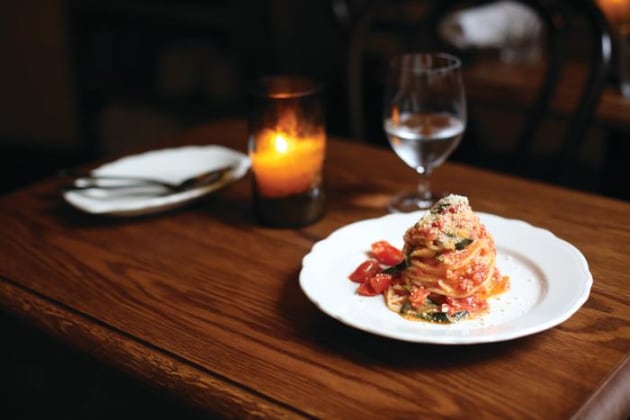 PHOTOGRAPHY: YASMIN NEWMAN
This article was first published in foodservice's May 2019 issue. Read the digital magazine here.