One of Australia's best American BBQ joints almost didn't make it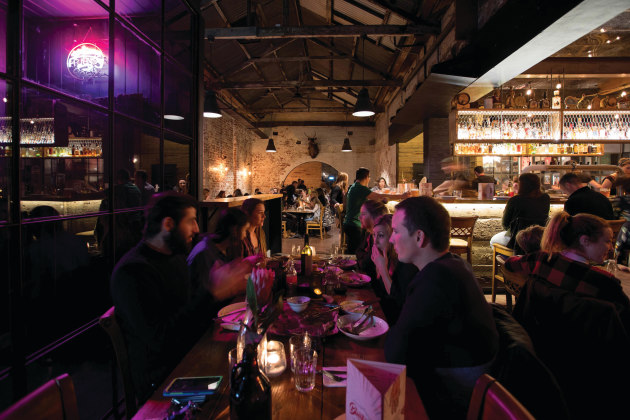 After a devastating fire, temporary tenancies, pop-ups and five years of wandering from site to site, one of Melbourne's best American barbecue joints, Bluebonnet Barbecue, finally found a permanent home in August last year. Tim Grey sat down with chef and owner Chris Terlikar to trace the long journey it took to get there.
 Texan barbecue is a few years older than smashed avo or matcha lattes. Back in the smoky, sticky golden age, everyone was taking to 40-gallon drums with oxy torches and buying whole sides of beef. Eventually, diners became sleepy and fat from all the white bread and red meat and moved onto raw kale.
It's all part of the natural lifecycle – a few brave innovators try something new, and everyone else falls in line. It becomes a brutal war of attrition – a process of natural selection. And, a couple of years later, only the strong survive.
Chris Terlikar, Australia's Texan barbecue master, is a survivor. Few restaurateurs have taken as many knocks as this man.
Back in 2015, when Melbourne was at the height of one of its barbecue waves, the chef's first restaurant and passion project, Bluebonnet Barbecue, burnt down. Terlikar was living above the inner-city restaurant, and he'd just crawled into bed after stacking the smoker. He woke up an hour later to find the courtyard bathed in amber light. 
The fire destroyed his custom-built smoker and damaged the kitchen and the furniture store next door. But he wasn't going to take it as an omen.
As a temporary measure, Bluebonnet began trading at the John Curtin Hotel in Carlton. But with an enormous debt to the ATO and slow trade at the pub, things weren't looking good. "It was really tough," says Terlikar. "We were losing a lot of money there, so we had to find something else or it was shut it down."
Luckily he found the Star, a 140-year old pub in North Fitzroy that had been the subject of much local controversy due to an unpopular building application. While the struggle between developers and the general public raged on, Terlikar took over the lease. Bluebonnet at the Star was a perfect fit; the hotel had a lived-in feel that suited barbecue beautifully, and even space for a bourbon bar on the corner. "We went in there and checked it out on a Friday afternoon, and we had the keys by Monday."
But Terlikar always knew that the Star was just a band-aid. At some point VCAT would make its ruling, and the tradies would move in to make way for the new apartment block.
So he began looking for Bluebonnet's new home – somewhere the barbecue venue could put down roots once and for all.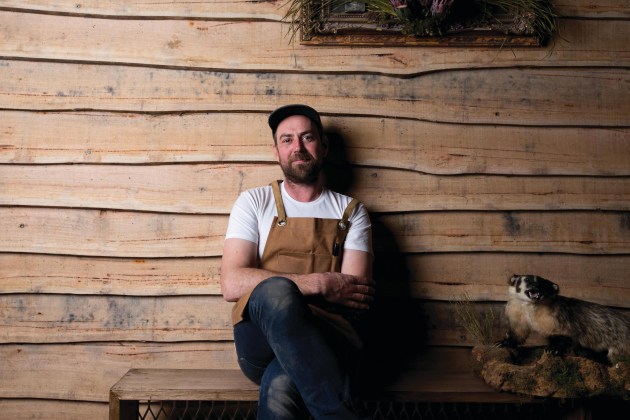 A few times a week, Terlikar would drive past an empty building on Lygon Street in Brunswick East. When he went in for a peak, at first, his heart sank: the ceilings were way too low, he thought. (Terlikar is very, very tall.) "But I opened up one of the ceiling panels and was like, 'Holy crap!' It has these wooden beams and exposed ceilings. It just really fit our style." They tore out the panels and did a complete renovation of the giant brick building that now seats 170 people, and in 2018, Bluebonnet was rebooted.
"We've got a 20-year lease on this thing," he says. "It's pretty important that you make it right if you're going in there for 20 years."
Now, Terlikar can actually focus on running the thing. But settling down hasn't been easy. "The industry has changed a hell of a lot, probably more in the last three years than in the last 20," he says. "It was a lot cheaper for us when we first started cooking.
For instance, we were paying about $7.50 a kilo for brisket, and now we're paying like $12.50, sometimes $15."
Terlikar's brisket is like the Holy Grail. After working in kitchens in Michelin-starred restaurants and casual diners alike in New York, London and Vancouver, Terlikar followed the smoke and settled in Austin, Texas, where he learnt the art of barbecue at renowned joint Micklethwait Craft Meats. Bluebonnet's salt and black pepper-crusted Texan brisket is the signature.
Barbecue in the States is highly regional, and Terlikar's not a Texan purist. There's also steak, pulled pork, pork chops, chicken and lamb ribs on his menu, alongside salads, vegetables and a very special black garlic cornbread topped with honey and thyme butter.
Forking out to start up a barbecue restaurant isn't easy. The smoker alone costs tens of thousands of dollars, and, as he mentioned, the meat's not cheap.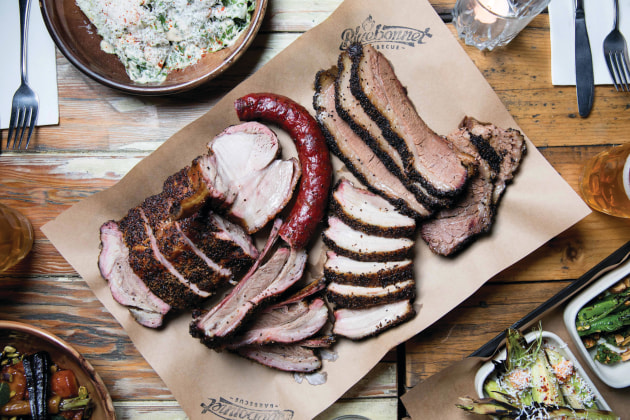 But while the price of produce has always fluctuated, Terlikar believes that the pressure on restaurateurs has increased because of the increased focus on labour laws. "Especially over the last two years, it's really tough now to make a dollar," he says. "I'd love to have my labour costs under 30 per cent, but staff are getting paid properly these days, and they're getting what they deserve."
From his point of view, if customers really care about fair employment practices – not to mention sustainability and ethical sourcing – they should be prepared to contribute a little more. "I think the customer needs to pay more if anything's going to change," he says.
To be able to charge accordingly, Terlikar has been drawing on his fine-dining background from his time at Jean-Georges Vongerichten's Public Kitchen in New York. "It's always what I wanted to do – evolve into more of a restaurant as opposed to a barbecue joint," he says. "We're doing more composed dishes these days, and not so much serving stuff out in little cardboard boxes."
But any higher-end restaurant needs a safety net, so to get the most out of his kitchen Bluebonnet has been pushing its off-site catering business, taking its food truck to weddings, parties and music festivals. 
It's an easy way to increase profits, but "it's super risky," he says. "We've done events where we've cooked 150 kilos of brisket and we've sold, like, five."
Ultimately what's kept Bluebonnet afloat through all the trials and tribulations is Terlikar's commitment to quality. "We didn't take shortcuts, we didn't go out and buy a pallet smoker; we built a custom offset smoker just like how I learnt to do it in Texas. That was a big thing for me; making sure we were doing it traditionally, the way I was taught how to do it, and not taking shortcuts.
People come back if your product's good, right?"
And, quality doesn't simply mean the price of produce or the expertise with which it's prepared: "Our staff is probably the biggest thing that helps us be successful," says Terlikar.
Blubonnet chefs work four days on and three days off, with the working week capped at 45 hours.
And the perks of treating staff properly extend to Terlikar too. After years of hustle, he's finally at a point where he can, maybe, go a little easier on himself. "I definitely have more of a work-life balance after the last six months," he says. "I can take days off if I want to, which is something that I'd never been able to do, really. It does get easier."
Let's hope so. 
This article was first published in foodservice's April 2019 issue. Read the digital magazine here.
Photography: Kate Shanasy.