How to be a freelance chef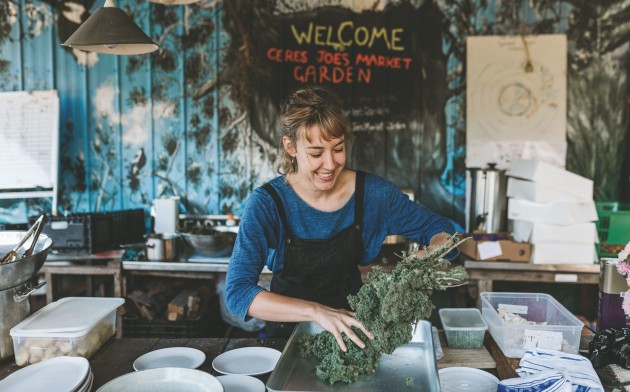 Working from home is a luxury not generally granted by the hospitality industry. But one Melbourne chef has found a way. Nick Buckley asked Ella Mittas how she cooks without a restaurant.
Hands deep in dishwater is the start for many chefs. From washing dishes you graduate to the prep station, then perhaps take on an apprenticeship. Eventually you move through the kitchen brigade, run your own team, and maybe, one day, even own your own restaurant. But the classic kitchen path didn't quite work for Ella Mittas, a Melbourne-based chef who has led her own nomadic journey.
Mittas has worked out the recipe for freelance cheffing, hosting regular sell-out pop-ups and cooking classes at restaurants and cafes around the city, as well as in her own home in Parkville, for the past two and a half years. It's not her only source of income; she supplements her pop-ups by designing wine labels, selling artworks online, and working at Blackhearts and Sparrows wine store. Being her own boss indulges her other creative impulses too. Each dinner has a theme, for which Mittas creates artworks and table settings, and curates the music (often live) and design herself.
"I like the idea of having people pay a ticket price for a dinner, and it's like going to the theatre – everything has been curated for that one night," says Mittas.
Each event feels inherently personal and collected – they're a true reflection of who she is.
"I try to have events that are very welcoming and have a real community feel to them. I think that community is sometimes a bit lost in our society and it's so essential. I want to try and promote it not just within the customers but also to involve the growers and producers too," she says.
At one of her pop-up dinners you'll find dishes like lamb shoulder-filled cabbage rolls with strained garlic yoghurt; fava with pickled shallots and capers; and tomatoes stuffed with tarahana – a grain that's soaked in milk.
Some of the food is drawn from her Greek heritage and her Yiayia's recipes, but it's largely influenced by her time in Europe, where she spent years working stages in kitchens from London to Istanbul.
After a gig at Melbourne wine bar Gertrude Street Enoteca in Fitzroy (where she has since hosted pop-ups) and a stage at Rockpool Bar and Grill, she travelled to London to work a short stint at Yotam Ottolenghi's Nopi – but it wasn't what she expected.
"To be honest, I didn't like working at Nopi. I had really glorified what working for Ottolenghi would be like, but by the time I worked in one of his restaurants, he was running such a big empire that I didn't get to spend any time with him," she says. But it didn't stop her staging.
She got a place in the kitchen of now-closed Lokanta Maya in Istanbul under chef Didem Şenol, one of the city's most celebrated modern Turkish chefs, and stayed there for a year.
But she admits that while her passion for food and cooking was unstoppable, working in kitchens wasn't always for her. "I think after trying for years I wanted to see if I could get anywhere without working in one for someone else."
It was all the travel in between stages that gave her the idea for her freelance chef career, and formed the cornerstone of her cooking practice.
"Traveling is probably the whole reason I decided to cook. I'm fascinated by regional cuisines, and by how the produce of an area affects the food culture. I find the anthropological side of food the most interesting," says Mittas, who, when she speaks to Foodservice, is about to begin a new stage in Italy.
"I've always staged in specific regions I've wanted to learn about, and have used them as a way of learning about traditional recipes and hand skills. Lots of the kitchens I've worked in wouldn't be open to me being there if I hadn't offered to work for free."
Her time working in Turkey and Greece proved particularly influential on what has become her pop-up template.
"People eat together in a very different way [in Turkey and Greece] that I don't think we have in Australia, it's much more intimate.
That's something that I've really tried to emulate in my pop-ups – people eating from the same plates and plating each other up portions of dishes. I think it brings people closer together," says Mittas, who describes her cooking as rustic, homely and generous in flavour.
And while that ethos brings her guests closer together, it has also brought Mittas closer to her own family and heritage after studying the nuances of regional Greek cuisines.
"My dad and aunties say I'm Greek-er than them, which I always laugh at. I'm the one going to back to the village – it's like it has skipped a generation."
This article was first published in foodservice's July 2019 issue. Read the digital magazine here.