Dark Mofo and the metamorphosis of Hobart's hospitality industry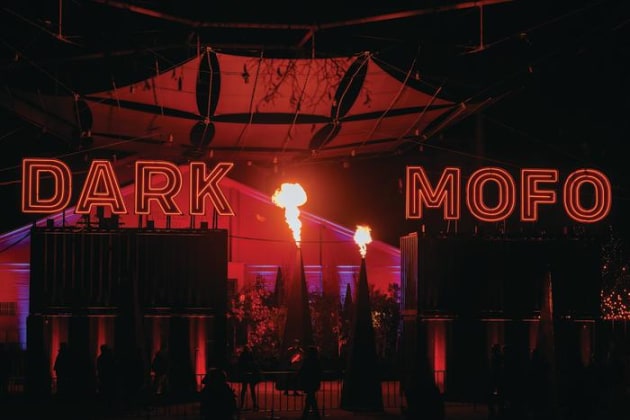 In the seven years of Mona's Dark Mofo music and art festival, Hobart's restaurant sector has undergone remarkable and rapid change. The festival brings tens of thousands of tourists to the small city every June, where eating, drinking and staying up late have become acute side effects for locals and visitors alike. Editor Aleksandra Bliszczyk spent a fortnight in Hobart during Dark Mofo to check the pulse of the growing food industry.
It's eight months before Hobart's annual three-week winter solstice music and art festival Dark Mofo lights up, but Tasmania's farmers are getting ready.
Thirty minutes north-east of Hobart, Tony Shearer at Rocky Top Farm is planting rows of organic leafy greens, beetroot and four varieties of cabbage. Further inland, Will Bignell at Thorpe Farm is planting fields of black salsify, horseradish, celeriac and Jerusalem artichoke.
Dark Mofo has enlisted local farmers to help feed the more than 10,000 people who will attend the festival's larger-than-life food hall, the Winter Feast, every night for eight nights. Hobart's regular seasonal supply won't be enough.
On paper, the Winter Feast is an assembly of 80 food and drink stalls in the 190-year-old Princes Wharf shed in Salamanca. But inside the mammoth 100-metre long waterfront venue is a glowing, smoking, thundering, crowded spectacle.
After making it through the application process, stallholders spend six months preparing. One designer spends three months hand-painting every menu blackboard. And the crew spends two weeks stringing velvet curtains, unfolding communal tables, and hoisting dozens of neon-red crosses before the doors open.
Now in its seventh year, "This is the biggest it's ever been," says Winter Feast food curator Jo Cook.
Since its inception in 2013, Dark Mofo's subversive and unpredictable music, art and theatre events suck in tourists from the mainland in growing numbers each year.
But it's not just art that's flourished in the city as a result; Dark Mofo's undercurrents can be felt throughout the entire food sector.
On the Feast's first night, Andrew McConnell's Melbourne butcher Meatsmith and Hobart butcher Meat Mistress are roasting six splayed goats from local Leap Farm over charcoal. Dripping strips of meat are torn from the beast and served with the farm's goat's cheese, beetroots, and flatbreads hand-stretched and flamed to order.
The Feast is open from 4 to 11pm. By 7:10, they're down to their last few portions.
Sue Dyson, local food writer, natural-wine importer, and co-founder of FoodTourist.com, describes Dark Mofo as "a gift to the hospitality industry".
Before the opening of Mona in 2011, Dyson says tourists would visit Hobart once and then tick it off. But then "suddenly things were happening, restaurants were opening, and people from interstate would say, 'oh I need to go back to Hobart'. And now it's quite extraordinary that when people come down for the weekend they can't visit all the restaurants."
June used to be "a quiet time where people became really insular," says Dyson, but now it's the biggest month of the year for restaurants, bars and cafes.
Analiese Gregory, head chef at two-hatted Franklin, posted on Instagram that the last Saturday of the festival was "the busiest day of the year … and June is our biggest month." The Sydney local continued: "Hobart is so much more seasonal than I ever realised and Dark Mofo turns it into a raging beast."
While the Winter Feast is the festival's only recurring food event, the influx of tourists provides opportunity for peripheral events, pop-ups, collabs and takeovers.
On the second Monday of Dark Mofo – Franklin's off day – floor supervisor Elenor Butler and sous chef Peter Cooksley, along with winemaker Giorgio De Maria, borrowed the space and turned it into a pulsating pizza and wine pop-up.
Butler, the only floor staff that night, says she clocked over 20,000 steps (or 12kms) in the one service.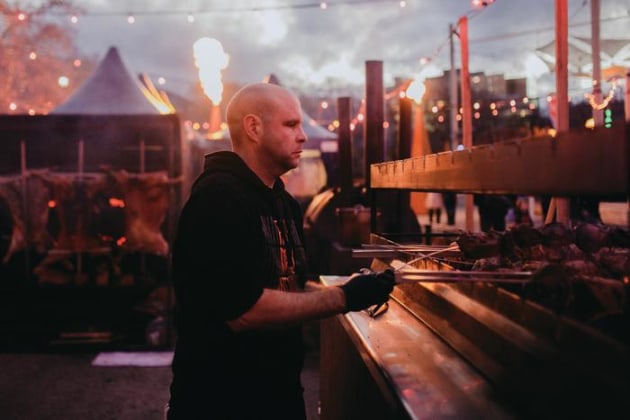 "[Dark Mofo] just creates this extreme environment of things that are really interesting and quite different to anything else that you've ever seen in Hobart. It encourages a community of people who are keen to stay up late," says Dyson.
This is something the City of Hobart actively encourages by allowing restaurants to apply for later licences, which Federica Andrisani, head chef and co-owner at hatted Italian casual fine-diner Fico, says took just a week to come through.
As a result, Fico was able to run two "Midnight Pasta" nights on Dark Mofo's middle weekend. The late-night services brought Chef Andreas Papadakis from Melbourne's Tipo 00 down to collaborate with Andrisani and co-owner and partner Oskar Rossi to serve "four or five pastas with pumping music and a lot of wine until 4 in the morning." The couple worked double shifts each night to pump out 360-odd portions of pasta, and Andrisani says they slept a total of six hours over the entire weekend.
Andrisani and Rossi met in northern Italy and decided to move to Rossi's hometown of Hobart four years ago, with the intention of opening their own restaurant. Back then Andrisani says it was far more common for people to eat dinner at 5 than 8, like she was used to in Europe.
"Now it's completely changed," she says, citing Dark Mofo as one of the main reasons for the restaurant industry boom. "The biggest weeks for us [are] when there is Dark Mofo."
The first official day of Dark Mofo 2019 is, therefore, as good a time as any to open a wine bar. For the first three weeks of service, Sonny, the second (tiny) venue from Matt Breen and Chris Chapple of Hobart's hatted 14-seat pasta and wine bar Templo, was completely overrun with customers. Word of the new wine bar spread like wildfire and people packed in shoulder-to-shoulder to eat fresh ravioli at the kitchen bench, while staff popped magnums and Purple Rain shook the speakers. (The crowd could barely dance though as it was such a tight squeeze.)
Bar manager and sommelier Alister Robertson moved from Adelaide to Hobart for the job, arriving less than two weeks before it opened. He says the outstanding produce and tight-knit food community drew him south.
Robertson is one of many hospitality professionals who have made the move. Franklin's Butler and Cooksley are both originally from Tasmania, but after a decade-long hospitality career in Melbourne, the partners in life decided to move back.
"We wanted … a better work-life balance and to live somewhere that afforded us more time to indulge in the social and physical environment around us," says Butler. "Also we are working towards opening our own space and we wanted to do that in a community that we really felt we could connect with, learn from, and hopefully add a little something to."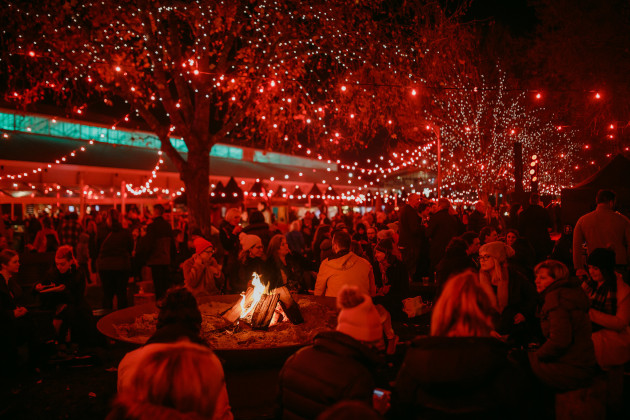 But with so many new venues and jobs being created, filling them with the right staff is an increasing issue.
"We have a big, big, big problem," says Andrisani. "We need a lot more people and we struggle," she says, acknowledging that they and their team work long hours, which is "not really healthy". "The biggest problem for me and my partner is always staff, or good staff anyway."
Dyson says Hobart's housing crisis is partly to blame.
Last year, the lack of affordable private rentals peaked when Hobart's median house rental price surged to $420 per week, just $10 less than Melbourne. At the time, Hobart's annual growth was at 15.1 per cent – the only capital city in Australia to be in the double digits – which put immense pressure on the housing market.
"Every year Dark Mofo [breaks] records," says Dyson. Tourism Research Australia showed international tourism in the 2017/18 financial year was up 21 per cent on the previous year, with a record 307,000 international visitors touching down and staying an average of 17 nights on the island.
"Young people come down here and really struggle to find affordable accommodation," says Dyson. "If that wasn't a problem, I think we'd be inundated with bright young things."
But although Dark Mofo is partly responsible for this growth, it's working to add skills to the local hospitality industry too.
The Winter Feast provides internships for around 60 students from six local high schools and colleges each year, which Cook calmly describes as "a catering job for 100,000 people".
Students are asked to elect the top three stalls for which they'd like to work and why, before each is placed at one or multiple stalls, to accommodate their interests.
"When we do our stallholder briefing, we talk to them about the importance of taking on students because we really need them in our industry," says Cook. "We're just desperate for more people in hospitality."
On the final weekend of the Winter Feast, the crowds swell as expected. As stallholders hand out the last of their skewers, s'mores, and smoked fish congee, there's Cook, dancing at the front of the live-music stage, surrounded by the recently nourished revellers of her grand Winter Feast.
PHOTOGRAPHY: JESSE HUNNIFORD FOR DARKLAB MEDIA
This article was first published in foodservice's July 2019 issue. Read the digital magazine here.