Ben Devlin: "10 things 
I wish I knew before opening a restaurant"
Former Paper Daisy executive chef Ben Devlin left his award-winning post to pursue his career-long goal of running his own restaurant with his partner Yen Trinh. But it took a lot longer than he hoped, and the couple came up against problems they never foresaw. Now, he's here to help aspiring restaurateurs avoid the same pitfalls.
Owning my own restaurant was always my career ambition. Every great chef I have looked up to, or have had the privilege to work alongside, has been a business owner as well, so it seemed like a natural progression.
For five years, my partner Yen and I drafted business plans for several locations across two states. We held down full-time jobs while slowing chipping away at this idea of one day opening our own place.
But, as it turns out, investing your entire life savings and starting your first business blind are harder and scarier than we imagined, and there are plenty of things I wish someone had told me before I started down this road.
After years of procrastination, indecision, partnerships that died, sale contracts that fell over, financing difficulties and legal hurdles, when we finally pulled the trigger it took us just over a year to build Pipit in Pottsville NSW, which opened in May 2019.
So, as an untrained business owner who learnt it all on the fly, here are 10 things to know before you do it yourself. 
1) GET A GOOD LAWYER AND ACCOUNTANT
This was actually a piece of advice we consistently heard from friends who were chef-owners, and it's true. There was a lot of back-and-forth on our lease, and our lawyer was invaluable. You can't do it without them.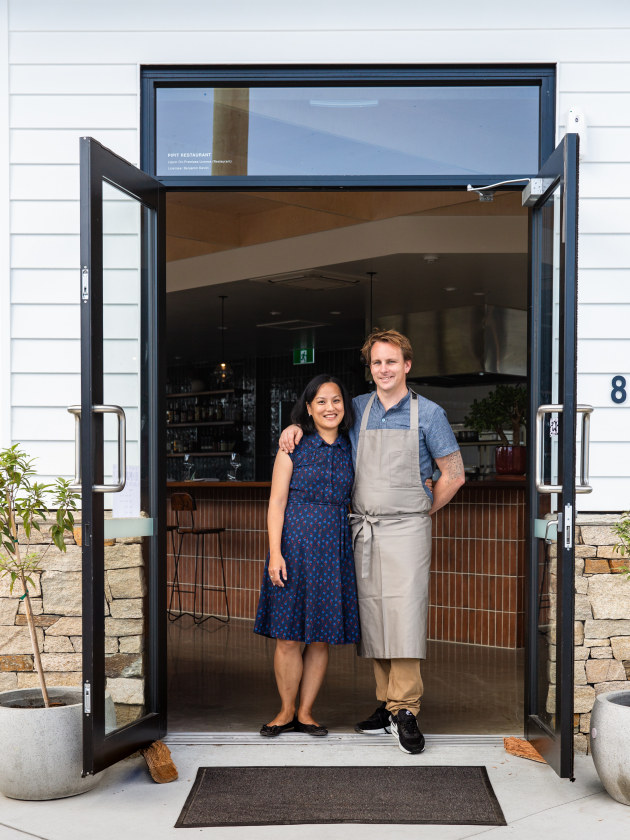 2) GET GOOD DESIGN CONSULTANTS
We went into a new building and needed to do the fit-out from scratch. The building approval process can feel like a maze, so find a consultant (usually architect) who can coordinate the specialist information for you. We first made the real estate enquiry in March 2018 and fit-out design commenced around August 2018 after months of lease negotiations. Delayed council approvals took over five months, so looking back I laugh a little at the consultant who said, "We'll have you open well before Christmas 2018". Make sure you hire someone who understands the nature of the beast, and sets realistic goals.
3) THINK ABOUT THE FOOD, THEN FORGET ABOUT IT
Food is both the first and the last piece of the puzzle. Design your space and equipment for the food you want to serve, but don't worry about your menu until your space is set up. It will fall into place in the end, and you have too much more important stuff to worry about first.
4) USE IP AUSTRALIA
We went through dozens of draft names. We found the Australian Business Name Register is not always the best check. IP Australia has a better search tool to review registered trademarks, business names and website domains all at once to avoid any copyright issues.
5) DON'T FORGET THE DETAILS
We learnt the most after we moved into the space. Think about all the steps your guests and your team will take throughout a workday or service, and design for that. Don't forget small things like bins, power points, laundry, bag hooks and signage.
6) MYTH-BUSTING CHARCOAL
Charcoal cooking was central to our concept, and we learnt that in NSW it usually requires extra town planning applications. Tip: Most industry rumors said we had to have expensive electrostatic filters too, which turned out to be unfounded as we got in with carbon filters.
7) BE PREPARED TO LAY YOUR OWN TILES, AND TO PAY SOMEONE ELSE TO DO IT
We did our own tiling to save budget, but we probably underestimated its time and complexity. While we eventually had a great sense of accomplishment, some jobs are just more effective with professionals, and looking back we probably would have simply bit the bullet. That said, a lot of time can be saved by being present on your construction site to make quick design decisions.
8) PLAN TO BE LATE
Unfortunately time can slip away easily. The things we thought would take long, like the liquor licence, were fast, and the things we thought would be fast, mainly the council modifications, were slow. Don't set an open date until you're sure you'll make it.
9) ASK FOR HELP
Friends and family were invaluable to us along the way. You never know what friend-of-a-friend might have be skilled in the exact area you need. Keep your friends in the loop, because you never know how they or someone they know can help.
10) HAVE A NEWBORN AT THE SAME TIME
With our first baby and first restaurant due at the same time, the family joke was that we were having twins. In the end they were luckily a few months apart because a baby and a new restaurant together isn't ideal timing. But in a funny way our new baby forces us to keep some balance and motivates us to hustle in new ways.
Let's be honest, if opening Pipit was a purely financial decision, well, we'd be smarter to invest in tech. But it isn't financial. We are in this game for so many personal and professional reasons, and for us, taking the financial risk was better than the alternative of always wondering "what if".
Being a chef-owner isn't for everyone, and now, just a couple of months into trading, we are certainly not experts. But to anyone reading this with the same ambition to own your own restaurant, we say, give it a go. What's the worse that could happen?