Baking with the bounty of our land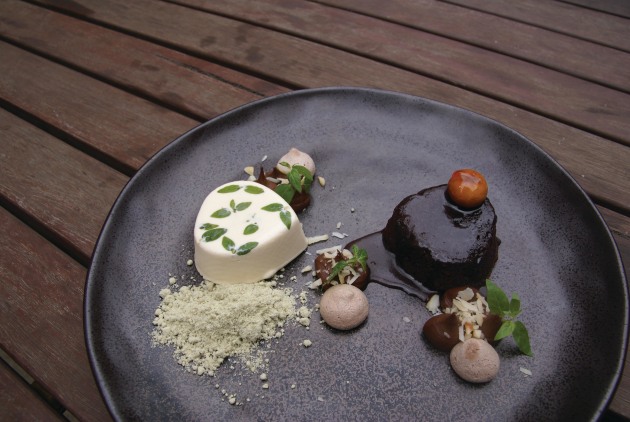 As Australian native ingredients permeate ever deeper into the country's culinary ether, the team at Melbourne's Charcoal Lane is set on educating new chefs on the value of them. Aleksandra Bliszczyk finds out how indigenous fruits, herbs and seeds are incorporated seamlessly into the restaurant's European-technique driven desserts.
The cool room shelves at Melbourne's Charcoal Lane are laden with buckets of leaves and branches from native Australian plants. "Cinnamon myrtle, lemon tea tree, lemon myrtle, native pepper, strawberry gum," executive chef Greg Hampton lists as he points to each overhead bunch. Back in the kitchen, the fridges in the dessert section are stacked with containers of native fruits and herbs.
The menu here stars roughly 30 different indigenous ingredients across every dish, from a bunya nut hummus to start, to the rainbow aspen dressing on the leafy side salad.
Charcoal Lane's food is grounded in European elements and techniques. Familiars like ratatouille, galettes and beignets make appearances, with native herbs, meats, fruits and vegetables replacing introduced species as much as possible.
Bush tucker, the term used by First Nations people to describe edible native plants and animals, has found its way onto menus all over the country. It's no longer just chefs like Attica's Ben Shewry who champion native, sustainable foods; lemon myrtle in granola, kangaroo fillets in place of steak, and finger lime on oysters are all common fare nowadays. But at Charcoal Lane, this is not a passing fad; it's the past, present and future.
As a trained horticulturalist and chef of more than two decades, Hampton has been putting native ingredients to the front since Charcoal Lane opened 10 years ago. What drives him now is not just plating fine food, but also educating diners and chefs about the flora and fauna of their land.
Charcoal Lane is a social enterprise restaurant operated by Mission Australia, a not-for-profit organisation that supports disadvantaged children, youths and families, and people living with disabilities. The restaurant runs a trainee program in the front and back of house that helps equip young First Nations people for full-time work. The aim is not to train them all to be chefs, but, that being said, four of the last intake of 12 went on to apprenticeships.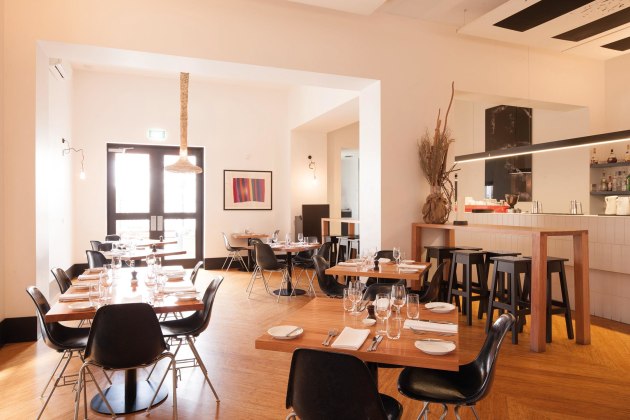 In order to educate new chefs on Australian ingredients, dessert is a good place to start, "because the flavours stand for themselves," says Hampton.
On the dessert menu, a classic creme brulee provides the perfect buttery backdrop to wattleseeds, which are crushed and infused into the cream. The native acacia-tree seed lends a vivid toasted flavour comparable to hazelnuts, chocolate and even coffee. Further down the list, sweet and fragrant lemon myrtle leaves level out the richness of a chocolate and beetroot cake; and riberries and seaspray add pops of tang and salt to a dessert of native lime sorbet, compressed honeydew and a macadamia crumb.
Pastry chef Gypsy Rose admits she had little knowledge of Australian ingredients before starting at Charcoal Lane last year (this is her first chef job, following a pastry course and cooking apprenticeship).
The first dessert Rose put on the menu – or any menu in fact – is one that occupied several weeks of her time. It combines two of her favourite ingredients: river mint, or mentha australis, and macadamias, in a macadamia and chocolate torte with chocolate ganache, river mint ice-cream (that's infused, churned and then pressed into a mould with fresh leaves) and river mint meringue soil. 
Though applying these ingredients to the classic French techniques she learnt in culinary school proved a challenge at first – she says "the amount of mint I had to use to get the flavour into the ice cream was a lot because it's really subtle" – her experimentation paid off. The cool, sweet flavour of river mint, reminiscent of rosemary or spearmint, is layered and vibrant in the dessert, leaving a new taste on most diners' palates.
Charcoal Lane sources this fragile herb from Brushtail Bushfoods, a 40-acre farm in Victoria's Strzelecki Ranges.
"It's one of those ingredients that I only have one grower for who can get it to me in good condition, everyone else just wrecks it. It doesn't transport very well – it's delicate," says Hampton.
Farmers and husband and wife Terry (a former dairy farmer) and Leonie Parker (a librarian) commercially cultivate a dozen native plant species for the foodservice industry that are in such high demand, chefs have to join a waiting list.
Due to increasing popularity, short seasons and changing growing conditions, the barrier to acquiring these foods wholesale is not uncommon.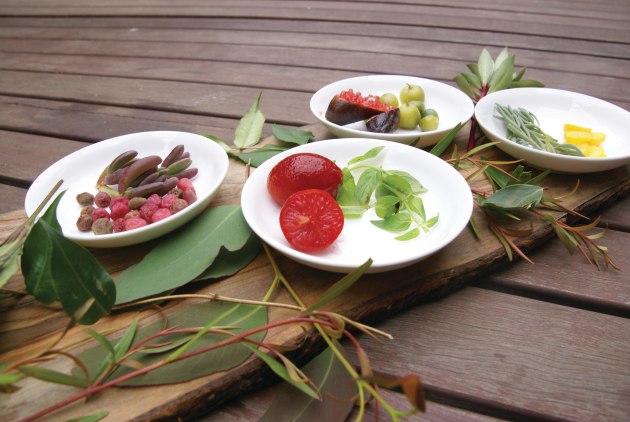 Muntrie berries, for example, native to the coastline along western Victoria and eastern South Australia, are only in season for two to three weeks a year. Hampton says that before the season even arrives, his supplier in South Australia will sell the whole crop.
It's the same again with his desert lime supplier in Perth. "Her crop of desert limes is sold out before they're even ripened. But I've been using her for 10 years now so she tends to stash some away for me. If it wasn't because of that I wouldn't be able to get that quality stuff," he says.
The huge spike in demand for native ingredients over the last decade has put a strain on growers, as supply is yet to catch up.
"Now it's a bit of a balance because a lot of the foods and fruits don't crop every year. For example there are big areas where it might not rain for 10 years, so things won't fruit or flower for 10 years, so to grow them commercially is really difficult," says Hampton.
While some Indigenous communities have started to grow bush tucker commercially, Hampton says most of his suppliers are husband-and-wife teams who have started a second business alongside their day jobs.
"But now it's at the stage where that's starting to take over as a full-time gig for them, but a lot of those people are starting to retire as well. So that's what we're trying to do now: inspire people to keep it going," he says.
Hampton hopes chefs across the country will let go of their perfectly symmetrical apples and frost-free tomatoes to express what Australian farmers can produce sustainably and soulfully.
"Everyone talks about seasonal and regional food and how great it is, but they're talking about crops that are supposed to be grown in Europe. It doesn't make any sense to me at all," says Hampton.
"Every place you work at they import stuff from every country," adds Rose, "but you import something from Italy and it costs less than something from Western Australia."
The first step: educate yourself, ask questions, and never stop tasting. Go out and try unfamiliar native ingredients in restaurants, markets or from your own suppliers, before you order another box of Tahitian limes.
Just don't go and chomp into a whole finger lime like Hampton says Harry the Duke of Sussex did when he and Meghan the Duchess of Sussex visited Charcoal Lane for an Australian food tasting last year.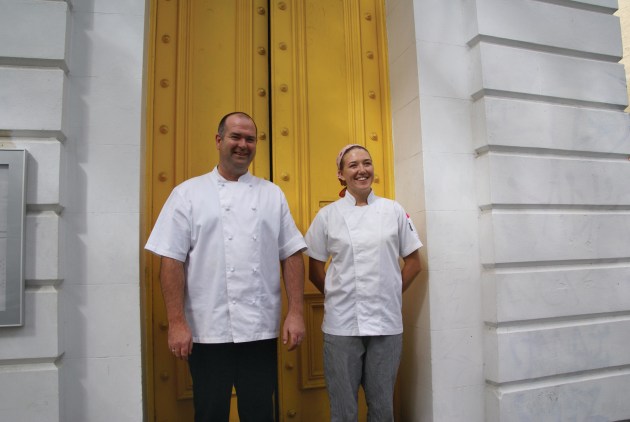 This article was first published in foodservice's May 2019 issue. Read the digital magazine here.