RECIPE: Zachary Tan's Malay chicken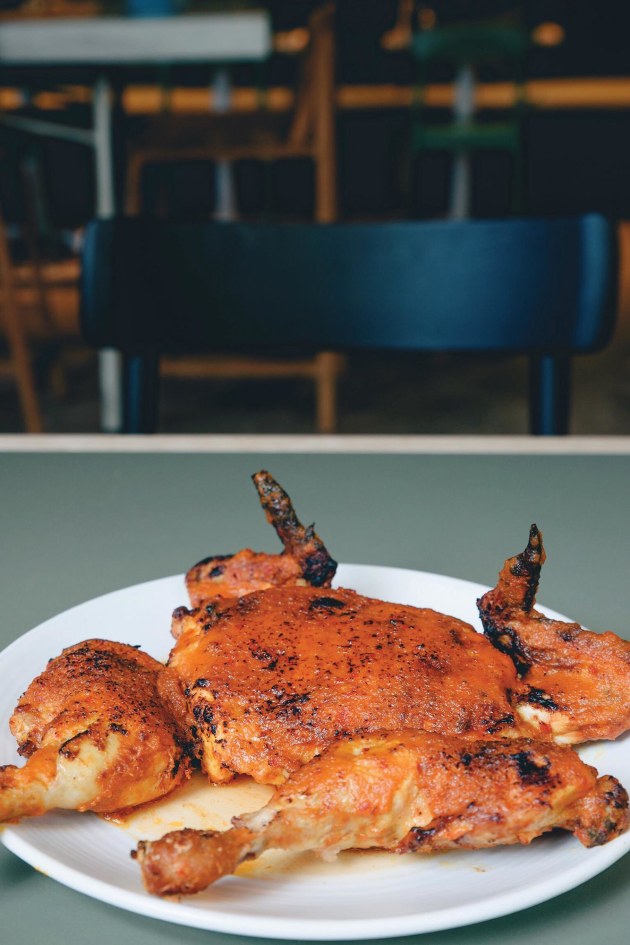 Executive chef of Devon Cafe, Zachary Tan, shares his love for spicy Malaysian cooking with his recipe for Malay chicken.
ZACHARY TAN'S MALAY CHICKEN
Serves 8
Coconut-spiced sauce
Makes approximately 500 g
3 sticks lemongrass (tender parts only)
15 g fresh turmeric
40 g garlic cloves, peeled
25 g ginger
25 g galangal
25 g dried chilli, deseeded (adjust quantity for own preference)
10 g long red chilli, deseeded
100 g vegetable oil
60 g white palm sugar
50 g fish sauce
60 g tamarind juice
10 g salt
200-300 g coconut cream
Method
Begin by soaking the dried chilli in warm water. Next roughly chop the lemongrass, turmeric, garlic, ginger, galangal and red chilli, and combine together in a large bowl. Once the dried chillies are rehydrated, drain well and add to the other chopped ingredients. Transfer the mixture to a high-speed blender and add 50 g vegetable oil. Blend until a smooth paste is formed, adding a little water if necessary.
In a wok or a heavy-base, wide pan on medium-high heat, cook the paste with the remaining vegetable oil, stirring constantly to avoid burning. Cook until the paste changes colour from orange to a dark, rich amber and the oil splits from the paste. Season the cooked spice mix with remaining ingredients and mix well.
Sambal belacan
2 cm block of shrimp paste
5 long red chillies
3 bird's eye chillies
1 tsp sugar
1 large lime or 3 calamansi limes, juiced
Method
In a pan on low heat, toast the shrimp paste for 5 minutes or until crumbly. Set aside.
Deseed the chillies and chop into rough pieces. Transfer the chilli to a mortar and pestle, add the sugar. Pound until smooth. Add the shrimp paste and the lime juice. Combine well.
Malay chicken
2 free range chickens, size 16, butterflied
4 limes, quartered
Method
Lightly score the thigh and breast of the chickens. Marinate overnight with roughly 150 grams of coconut-spiced sauce. Cryovac in a large bag and cook at 70°C for 60 minutes, or until the thighs register 70°C on a temperature probe.
Finish cooking chicken on hot coals, using extra marinade to continually baste the chicken.
Serve the chicken with lime wedges, the sambal belacan and some coconut rice.
Zachary Tan is the executive chef of Devon Cafe.