Recipe: Yasmin Newman's lamb adobo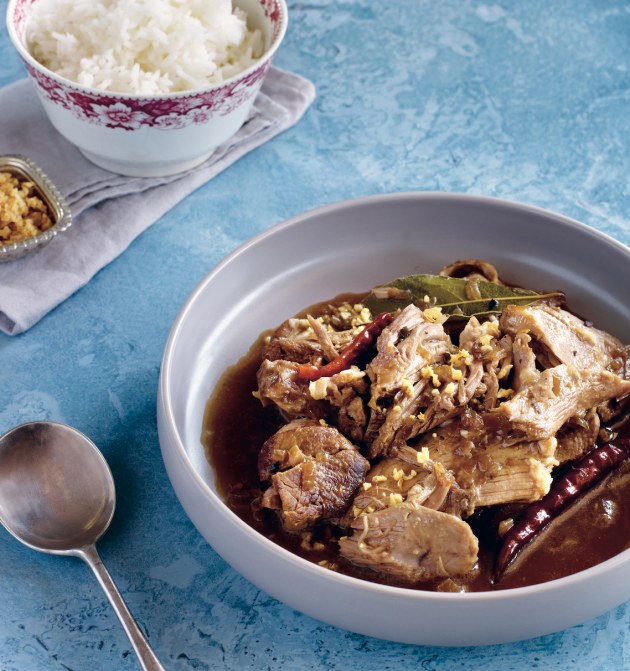 Adobo is both the national dish and the country's most popular. In my humble opinion, its simplicity, versatility and distinctive use of vinegar deserve all the attention. I would happily eat it every day.
This recipe was kindly shared by the renowned LJC Restaurant group where goat, a traditional Filipino meat, is used for its signature adobo. For accessibility, this version slow braises lamb shoulder. Lamb is a similarly strong-flavoured meat widely available elsewhere and works beautifully in this dish.
Serves: 4–6
2 tablespoons vegetable oil
1 garlic bulb, finely chopped
1 small onion, finely chopped
1.4 kg lamb shoulder, bone in, trimmed and cut through the bone into 6 pieces
60 ml (1⁄4 cup) soy sauce
190 ml (3⁄4 cup) cane or rice vinegar
250 ml (1 cup) beef stock
3 bay leaves
1 teaspoon salt flakes
2 teaspoons freshly cracked
black pepper
2 long dried red chillies
2 short dried red chillies
Crisp-fried garlic (optional) and steamed rice, to serve
 METHOD
Heat the vegetable oil in a casserole dish or large, deep saucepan over medium heat. Add the garlic and cook for 30 seconds, stirring until fragrant. Add the onion and cook, stirring, for 3 minutes, or until softened. Increase the heat to high, add the lamb and cook for 1 minute on each side, or until just browned.
Add the soy sauce, vinegar, stock, bay leaves, salt and pepper to the dish and stir gently to combine. Bring to the boil, then reduce the heat to low, cover, and cook for 11⁄2–2 hours, stirring occasionally, until the lamb is very tender (add more stock or water if necessary).
Using tongs, remove the lamb and transfer to a plate. Return the liquid in the dish to medium–high heat, add the dried chillies and cook for 15 minutes, stirring occasionally, until the sauce is slightly thickened and reduced.
Tear the lamb into large pieces, discarding the bones, then return the meat to the pan. Stir gently over low–medium heat until warmed through. Season with freshly cracked black pepper, transfer to a serving bowl, scatter with crisp-fried garlic, if using, and serve with steamed rice.
This recipe is an extract from Yasmin Newman's new cookbook, 7000 Islands.