Recipe: Tipico's slow-braised beef cheek with polenta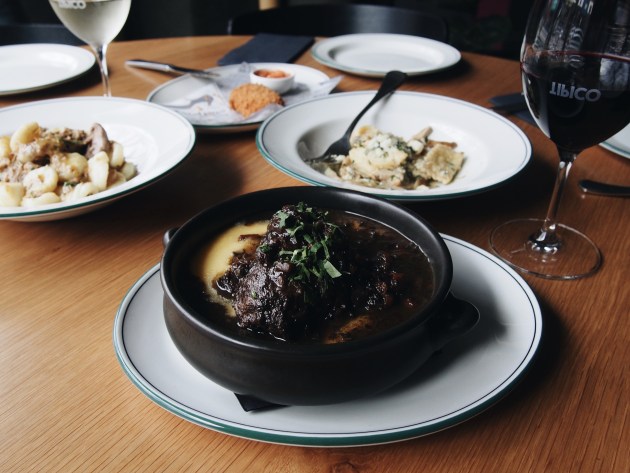 SERVES FOUR
Ox Cheek
1 kg ox cheek

2 small carrots, diced

1 small brown onion, diced

1 celery stalk, diced

50 ml olive oil

350 ml red wine

200 ml vegetable or beef stock

1.5 tsp salt

1⁄2 tsp ground black pepper

2.5 g sage, finely chopped

2.5 g rosemary, finely chopped

2.5 g thyme, finely chopped
METHOD Heat a nonstick fry pan with some olive oil. Season ox cheeks with salt and add them to the hot pan, sealing both sides. Repeat until all the ox cheeks have been sealed. Remove and set aside. In a large pot with some olive oil, place the carrot, onion, celery, sage, rosemary and thyme and cook until they are fragrant and starting to brown. Add the sealed ox cheek and red wine. Simmer until the alcohol has evaporated and the wine has reduced by halF. Add stock and season with salt and pepper. Leave covered on a low heat for four-five hours (or until the ox cheeks are tender). If it gets too dry, add more stock. Continue to simmer until the liquid has reduced to a thick sauce.
Polenta
 2.1 L water (or vegetable stock for extra flavour)

350 g instant polenta

70 g parmesan cheese, grated

70 g unsalted butter

2.5 tsp salt
METHOD Bring the water to boil and add salt. Add the instant polenta slowly, whisking to avoid any lumps, and simmer for three minutes while the polenta thickens. Add the parmesan and butter and whisk for two minutes until everything is combined. Remove from heat and leave to rest for 10 minutes.
Serve the beef cheeks over the top of the polenta, drizzling the sauce from the pan over the top.