Recipe: Thi Le's pork tomahawk 
with dipping sauce and banana ketchup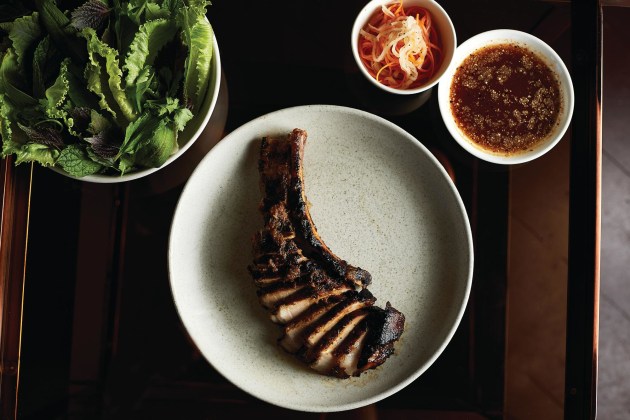 Thi Le, restaurateur and chef of Melbourne restaurant Anchovy, shares with foodservice her recipe for pork tomahawk with dipping sauce and banana ketchup.
THI LE'S PORK TOMAHAWK WITH DIPPING SAUCE AND BANANA KETCHUP
Serves 4
HERB BOWL
Butter lettuce
Perilla
Coriander
Mint
Spearmint
Method
Combine all the ingredients and toss.
DIPPING SAUCE
50 g fish sauce
50 g tamarind
50 g palm sugar
Smoked rice powder
Smoked chilli powder
Method
Combine the fish sauce, tamarind and palm sugar in a small bowl and bring to the boil.
Allow to cool before adding the chilli and smoked rice powders, to your taste.
BANANA KETCHUP
125 g shallots, brunoise
5 g garlic
1 tbsp tomato paste
150 g ripened banana puree
150 g banana vinegar
2 cloves, ground
1/4 tsp black pepper, ground
1/2 tbsp soy sauce, or to taste
1 bay leaves
50 g brown sugar
1 tbsp annatto seed, ground
2-3 bird's eye chillis, minced
Method
In a pan, sweat the shallot and garlic until soft. Next add the chilli and combine well. Add the remainder ingredients except for soy. Cook on low for about 1 hour, then check consistency (add water if too thick). Add soy sauce to taste, and blend until smooth.
PORK TOMAHAWK
400 g Pork tomahawk
100 g oyster sauce
100 g fish sauce
2-3 garlic, smashed
10 g sesame oil
100 g Coca Cola
Banana ketchup
Method
In a large bowl, combine the oyster sauce, fish sauce, garlic, sesame oil and cola. Reserve some glaze for grilling, before marinating the pork. Take the reserve marinade and mix with equal amounts of banana ketchup.
Grill the pork tomahawke on the barbeque for 3-4 minutes each side, glazing both sides. The meat should be charred, smoky and slightly sticky. Allow to rest for 8-10 minutes. Return the pork to the grill to heat up 1-2 minutes on each side, then carve the pork into thin slices.
TO ASSEMBLE
Serve the pork with the spiced tamarind dipping sauce, fresh lettuce and herbs.