Recipe: Teofilo Nobrega's osso bucco ragu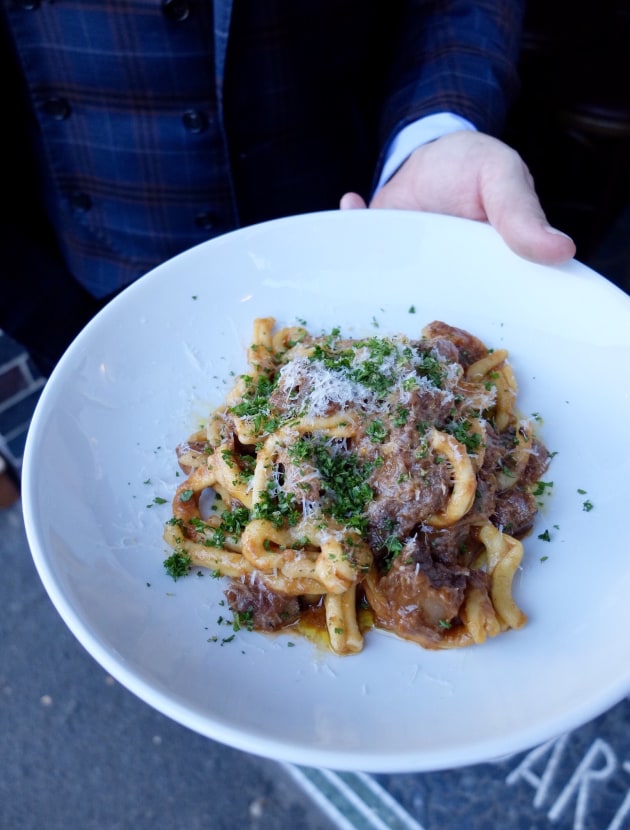 Bartolo, Sydney – Serves 10
Jared Merlino has opened some of Sydney's best bars including, Kittyhawk, Lobo Plantation, and cocktail-slash-pasta bar Big Poppa's. For his first solo venture, Merlino glided towards food, opening Bartolo in November 2018 in the former sight of Bill Granger's Bills in Surry Hills. Head chef Teofilo Nobrega (former head chef at Fratelli Paradiso) crafted a menu inspired by the food he and Merlino grew up eating in their Italian households – the food of their grandmothers. In July 2019, Merlino steered the ship in a new direction, bringing drinks back into focus, while keeping the homely food on the menu. Bartolo is known for hearty meals like this osso bucco ragu.
Osso bucco ragu
2 kg osso bucco (veal shanks)
2 onions, finely diced
1 large carrot, finely diced
2 sticks celery, finely diced
1 bunch sage
1/2 bunch thyme
2 bay leaves
4 cloves of garlic, minced
200 ml olive oil
100 g tomato paste
500 ml good-quality dry red wine
1 kg Italian crushed tomatoes
1 kg fresh casarecce pasta
Salt and pepper
Corn flour
Grana Padano Parmesan to serve
Gremolata (chopped parsley and lemon zest) to serve (optional)
METHOD Season each piece of osso bucco with salt and pepper and dust to lightly coat with corn flour. In a heated pot, seal the osso bucco on each side, then remove the meat, set aside, and deglaze the pan with a splash of red wine. Add olive oil to theb pot and sauté the diced vegetables until soft, but not brown. Add garlic and herbs to the pot and stir. Add tomato paste and cook out for 2 minutes. Add remaining red wine and cook for a further 5 minutes to evaporate the alcohol. Add crushed tomatoes and bring to a gentle boil before adding the sealed osso bucco and any residual juices to pot. Transfer the contents of the pot carefully into a large, deep baking tray and cover with baking paper first, then aluminium foil, and place in an oven at 180 degrees for 2.5 hours. Make sure to check it every half an hour or so.
When the meat falls away from the middle bone, it is ready. Remove from oven and allow to cool. Gently pull the meat apart, removing bones and tendons from the tray, but reserving the marrow from the bones. This should simply fall out. Put the marrow back into the sauce for flavour.
To serve, heat a portion sauce in pan and add the uncooked fresh casarecce. Add water to loosen if needed. Once the pasta has cooked, add grated Grana Padano and toss. Serve finished with gremolata and more grated Grana Padano.
Teofilio Nobrega is the head chef at Sydney's Bartolo. 359 Crown Street, Surry Hills NSW.