Recipe: Stuart McVeigh and Charlie Watson's lemon and ricotta crostata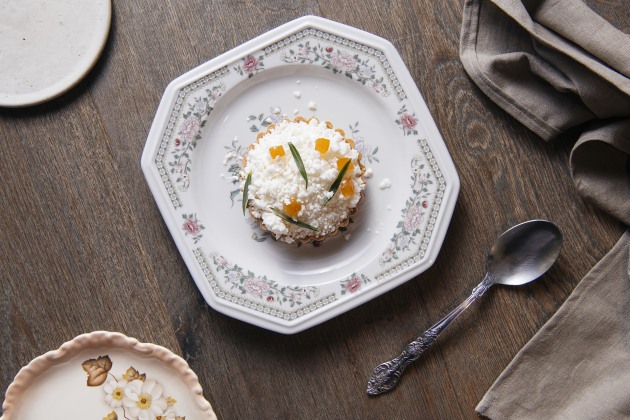 In June 2019, Scott Pickett closed his casual fine diner Saint Crispin and turned it into Lupo, an upmarket Italian-inspired restaurant focussed on fresh pasta. While menu testing before opening, executive chef Stuart McVeigh and head chef Charlie Watson made a parfait that didn't quite work, so they turned the mix into a custard and played around with pastry and liquid nitrogen. Thus this crostata (a traditional Italian tart) was born. It was so good they kept it on the menu.
Lupo, Melbourne – makes 24
Pastry shell – makes 36
1025 g butter, cut into small cubes
1125 g icing sugar
3000 g plain flour
3 whole eggs
850 g egg yolks
METHOD Mix dry ingredients with the butter with the paddle attachment until it forms a fine crumb. Slowly add the eggs and mix until incorporated. Wrap dough in cling film and refrigerate until chilled. Roll out dough to about 4 mm thick. Divide into portions and press dough into 10 cm tart tins. Add pie weights and blind bake for 20 mins at 160 degrees.
Lemon and ricotta custard
250 g milk
250 g cream
200 g egg yolk
100 g sugar
510 g white chocolate
Juice of 12 lemons
Zest of 6 lemons
1 kg ricotta
METHOD Bring milk and cream to the boil. Add the lemon zest and infuse for 20 minutes. In a separate bowl, whisk room temperature egg yolks and sugar together. Pour cream mixture onto egg mixture and cool to 82 degrees. In another bowl, added white chocolate and pour mixture over. Add lemon juice, zest and ricotta and blend in by hand. Pour mixture into cooled tart shells and cook in the oven at 160 for 5 minutes.
Frozen ricotta and lemon verbena foam
150 g sugar
425 g water
18 g lemon verbena
2 sheets gelatin, bloomed for 10 minutes
200 g ricotta, hand blended until smooth
Liquid nitrogen
METHOD Bring sugar and water to the boil, then add lemon verbena and ricotta. Pass mixture through a sieve and and transfer into a foam gun. Add a small amount of liquid nitrogen to a large bowl and discharge mixture from gun into the liquid nitrogen gradually, breaking it up into a crumb.
TO SERVE Allow tarts to cool. Top with frozen ricotta mixture and garnish with fresh lemon verbena leaves.
Stuart McVeigh and Charlie Watson run the kitchen at Lupo, Melbourne. 300 Smith St, Collingwood VIC.