Recipe: Somer Sivrioglu's Turkish Mess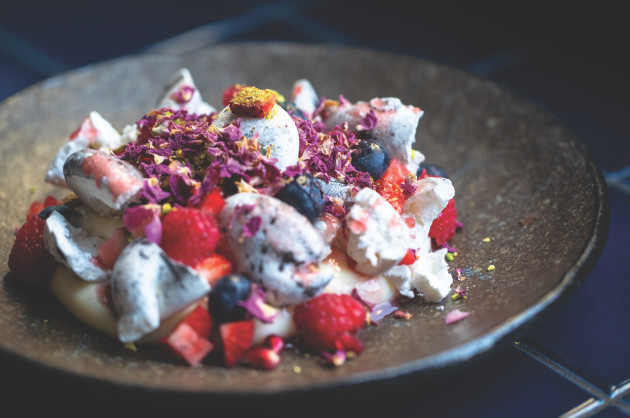 Turkish Mess
Serves Four
MESS CREAM
1 l milk
200 g cornflour
150 g sugar
200 g pure cream
10 ml mastic liquor
METHOD Put all of the ingredients except the pure cream into a pan over low heat to simmer and stir until it thickens. Take the pan off the heat and whisk the mixture to cool it down. This takes approximately 30 minutes. Then stir in the pure cream and whisk for another 2 minutes, or until combined.
MERINGUE
125 g egg whites
250 g sugar
METHOD Put the egg whites and sugar in a mixer set to the highest speed. Whip until peaks form. Pipe the meringue mixture into kisses on a lined baking tray and bake at 100ºC for 90 minutes.
BERRY SAUCE
125 g raspberries
125 g blueberries
250 g strawberries
300 g sugar
METHOD Combine all the ingredients in a pan and simmer on a low heat for approximately 15 minutes, stirring occasionally, until the fruits soften.
GARNISH
50 g raspberries
50 g blueberries
20 g pomegranate arils
100 g strawberries
25 g ground pistachios
10 g rose petals
TO ASSEMBLE Put 2 heaped tablespoons of the mess cream in the centre of each plate. Divide the meringue into 4 serves and crumble over the top of the mess cream. Drizzle with berry sauce and garnish with fresh berries, pistachios, and rose petals.
 Somer Sivrioglu is the co-owner and executive chef of Sydney restaurants Efendy and Anason.