Recipe: Somer Sivrioglu's simit sesame rings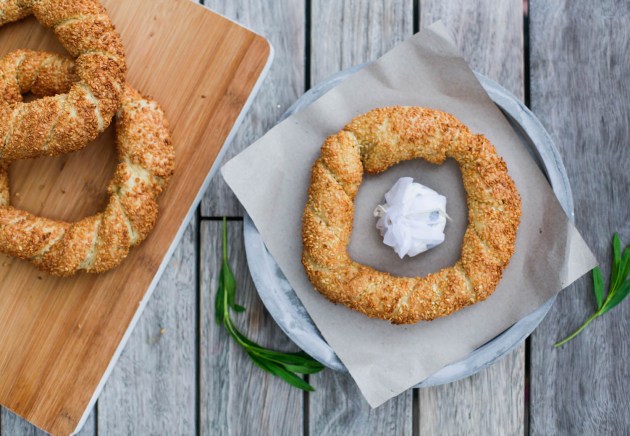 Served at both of Sydney restaurants, Efendy and Anason, owner and chef Somer Sivrioglu shares with foodservice his recipe for simit sesame rings.

"What pretzels are to the Germans, simit are to Istanbulians, who buy them from street stalls all day long and munch them between appointments. They are at least 600 years old – Topkapi Palace documents from 1593 include bulk orders for simid-I halka (round simits). They have entered the language of metaphor. A Turk who hates his job will say: 'I'd be better off selling simit.' There are bakeries that cook nothing but simit – in wood-fire ovens, of course."
                                                                                                                                                             Somer Sivrioglu

SOMER SIVRIOGLU'S SIMIT SESAME RINGS
Serves 8
2 tsp dry yeast
2 tsp sugar
545 ml lukewarm water
300 g plain flour, plus extra for dusting
1 tbsp vegetable oil, plus extra for greasing
45 ml thickened (whipping) cream
1 tsp salt
350 g grape molasses
140 g sesame seeds
Butter and feta, to serve (optional)

Method
In a bowl, combine the yeast and the sugar together with 250 ml of lukewarm water, and set aside for 5 minutes. In that time it should start to form bubbles. Add another 125 ml of water and combine.
Sift the flour into a mixing bowl and make a well in the middle. Pour in the yeast mixture, vegetable oil and thickened cream. Knead the dough for 5 minutes to make soft and stretchy dough, adding more flour if the dough is too sticky. Cover the bowl with a damp cloth and rest for 1 hour, allowing it to expand.
Preheat the oven to 230°C. Add the salt to the dough and knead for 3 minutes. Sprinkle some flour on your work surface. Divide the dough into eight pieces and roll into balls. Rest for 3 minutes. With floured hands, pull each ball in half and roll each half into a strip about 50 cm long. Twist the two strips around each other into braids. Pull the braided dough around into a circle. Stick the ends together, wetting the dough if necessary to help it hold.
Dilute the grape molasses with 170 ml of water in a shallow bowl, and set aside.
Place a frying pan over low heat. Add the sesame seeds and toast, tossing constantly, until the seeds turn golden brown. Turn onto a tray and set aside.
Dip the braided dough into the molasses, one at a time. Turn to coat both sides. Shake off the excess liquid then toss each braid in the sesame seeds, making sure both sides are evenly coated.
Line a baking tray with baking paper and brush with oil. Arrange the simit on the tray and bake for 20 minutes, or until golden brown and crusty.
Serve warm with butter and feta, or at room temperature as part of a breakfast spread.