RECIPE: Somer Sivrioglu's keskul (palace pudding)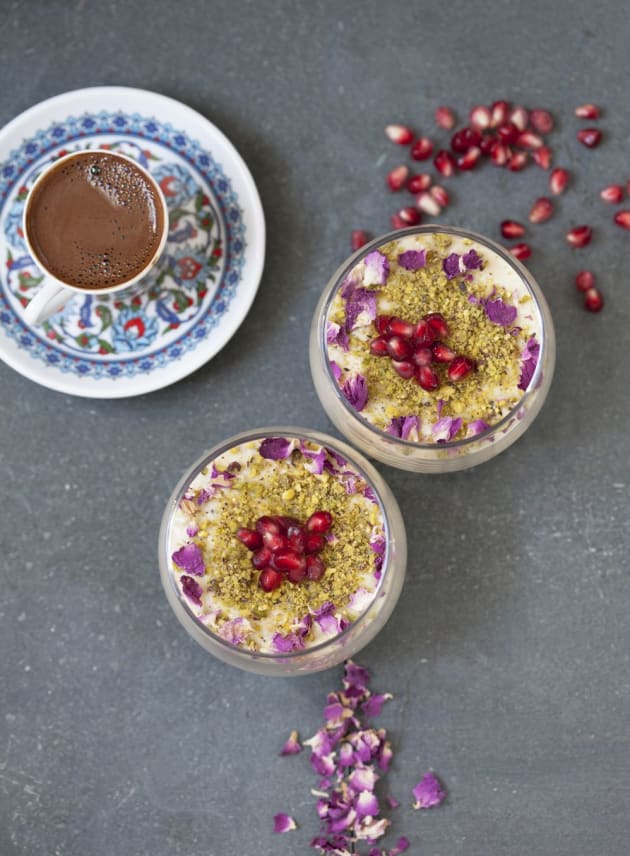 Somer Sivrioglu, owner and chef of Turkish restaurants Anason (Barangaroo) and Efendy (Balmain), shares with foodservice his recipe for keskul or palace pudding.
SOMER SIVRIOGLU'S KESKUL (PALACE PUDDING)
Serves 4
Ingredients
40 g (1½ oz) blanched almonds
40 g (1½ oz) pistachio kernels
250 ml (9 fl oz/1 cup) milk
250 ml (9 fl oz/1 cup) pouring (whipping) cream
100 g (3½ oz) sugar
25 g (1 oz) cornflour (cornstarch)
Pashmak (Persian fairy floss), to decorate (optional)
Pomegranate seeds, to decorate (optional)
Method
1. Put the almonds in a food processor and pulse finely. Pulse the pistachios separately.
2. Put the milk and cream in a saucepan and mix.
3. Heat over medium heat, then add the sugar. Cook for 2 minutes, then whisk in the almond meal.
4. Continue to whisk for 2 minutes, then scoop out 125 ml (4 fl oz/½ cup) of the mixture into a bowl.
5. Whisk the cornflour into the bowl, and then slowly add to the cooking mixture, whisking constantly.
6. Continue to whisk, and bring to the boil. Add the pistachios, reduce the heat and simmer for 3 minutes, whisking. When the mixture starts to thicken, remove from the heat and leave to cool to room temperature.
7. Divide the keşkül mixture into four bowls or cups.
8. Refrigerate for 3 hours to set. Remove from the fridge, decorate with pashmak and pomegranate seeds, if you like, and serve.
This is an edited extract from Anatolia: Adventures in Turkish cooking by Somer Sivrioglu and David Dale, published by Murdoch Books.