Recipe: Simon Hopkins' Smoked Jalapeño Margarita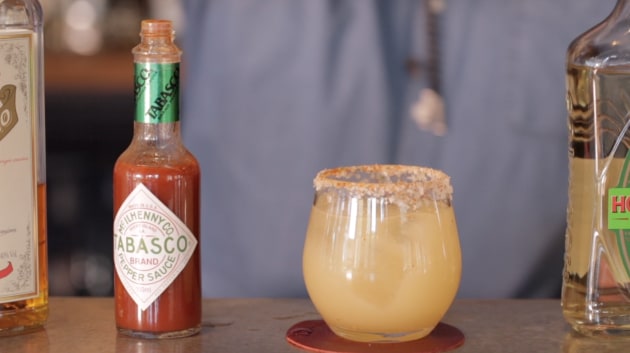 National Margarita Day is coming up on February 22, so why not add a little heat to your menu. Every bartender has their own failsafe recipe for a classic Margarita, but this is a firey special to add to your drinks list on the day.
Smoked Jalapeño Margarita
60 ml reposado tequila, like Herradura Plata
15 ml dry curacao
3 dashes of Tabasco (more if you like it spicy)
Chilli salt (equal parts rock salt and chilli powder)
30 ml freshly squeezed lime juice (plus extra wedge for rim)
10 ml agave nectar
1 tsp smoked/oven roasted jalapeños
Ice 
Equipment
Old Fashioned glass
Cocktail shaker
Cocktail strainer
Method
Rub wedge of lime around rim of glass, then place rim of glass on small plate of chili salt. Tap bottom of glass to remove excess chilli salt. Muddle the jalapeños in the bottom of the cocktail shaker. Add the tequila, curacao, lime juice, agave nectar, Tabasco and ice and shake hard. Strain cocktail into rimmed glass, top with ice, and garnish with a few smoked jalapeños.
Simon Hopkins is the bar manager at the Lansdowne Hotel in Chippendale, Sydney, and part of the Tabasco Chef Program.