RECIPE: Sam Lawrie's miso butter ramen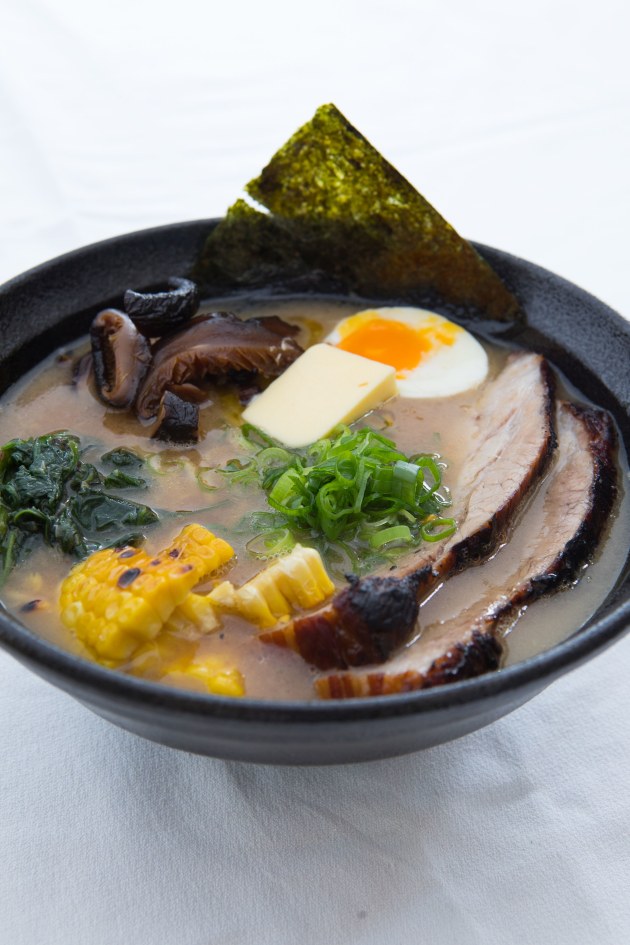 Winner of the Best Savoury Award at this year's Fonterra Proud to Be a Chef competition, Sam Lawrie, shares with foodservice his recipe for miso butter ramen.

SAM LAWRIE'S MISO BUTTER RAMEN
Serves: 2
Prep time: 30 minutes
Cook time: 2 hours
This is my take on a miso butter ramen. This type of ramen originated from the Sapporo region of Japan, home to the majority of Japan's dairy farms.
I'm using a double broth of chicken and seafood dashi to try and impart as much umami and depth of flavour as possible in the short time frame.
Western Star Butter is used to flavour the broth and give the broth the required fat levels to help coat the noodles as it's eaten. It's also used on the corn, in the warrigal greens as well as a garnish for the eater to mix into the broth as desired.
I have tried to minimise waste by pickling the shiitake mushrooms that are used in the stock, reusing the soaking water from the dashi to use in the Shoyu Tare as well as using veg scraps in the stock.
All components have taken a lot of trial and error to get them the way I want.

INGREDIENTS

Ramen alkaline noodle
200 g high protein white bread flour
100 g plain flour
1.5 tsp lye water
125 ml water
5 g salt
Chicken stock
2 chicken carcasses
500 g chicken wings or necks
500 g chicken feet
200 g spring onions
3 garlic cloves
10 g ginger
60 g dried shitake mushrooms

Dashi
50 g kombu
100 g dried squid
50 g dried anchovies
100 g dried mackerel
20 g shaved dried bonito
Pork fat
400 g pork back fat
Garlic puree
10 garlic cloves
150 ml rice bran oil

Miso butter tare
50 g white miso
50 g red miso
20 g Western Star butter
20 ml sake
20 ml honey
20 g garlic puree
30 ml pork fat

Shoyu tare
300 ml soy sauce
150 ml sake
150 ml mirin
60 g caster sugar
400 ml reserved dashi soaking liquid
Chashu (pork belly)
400 g free range pork belly (one with nice layers of fat)
200 ml shoyu tare
50 ml cooking sake
50 ml mirin
50 g spring onions
2 garlic cloves
1 2cm x 2cm knob ginger

Shoyu nitamago (ramen egg)
2 free range eggs
100 ml shoyu tare

Warrigal greens
300 g warrigal greens
30 g unsalted Western Star butter
1 tsp garlic puree
15 ml shoyu tare

Pickled shiitake mushrooms
125 ml soy sauce
125 ml sherry vinegar
100 g caster sugar
10 g ginger

Grilled corn
1 corn cob
30 g Western Star butter

Burnt garlic oil
10 garlic cloves
150 ml rice bran oil
100 ml sesame oil
10 g chilli paste

Garnish
50 g Western Star butter
4 nori squares
2 spring onions, finely julienned

EQUIPMENT NEEDED
Conventional stove top and oven
Fridge
Pasta machine
Charcoal chimney
Charcoal grill
Food processor

METHOD

Ramen alkaline noodle
Mix lye water with water to form an alkaline water solution (kansui). Mix plain flour with bread flour and salt in a large bowl. Slowly mix in alkaline water solution to the flour while trying to bring it all together (this will not come together as easily as a pasta dough). Once together knead on a floured work surface till a nice ball is formed (around 10 min). Wrap in glad wrap and leave to rest in the fridge for 1 hour.
Cut dough into 2 and roll each half out using rolling pin. Pass through pasta machine's largest setting, fold in half and repeat 5 times. Pass through lower settings one at a time till the required thickness is achieved. Pass through pasta cutter. Repeat for other half of dough.
Spread noodles out on a board and sprinkle with flour to ensure they don't stick together.
Chicken stock
Clean chicken carcasses, necks and feet thoroughly in hot water (if more time isavailable, cover chicken with water, bring to the boil, discard of liquid and clean). Add to stock pot with enough water just to cover. Add spring onions, garlic, smashed ginger and dried shiitakes. Bring to simmer and cook for as long as time permits, but after 30 minutes remove the shiitake mushrooms (they will be used for pickled shiitake mushroom topping). Skim the surface of the stock as you go. Strain liquid through a fine strainer.
Dashi
Soak kombu, dried mackerel, dried squid and dried anchovies in cold water for as long as time permits. Drain and reserve the water for soaking liquid for Shoyu Tare before placing the ingredients in pot with 2 litres of water. Slowly bring the water to 60

°

C on a medium heat. Once 60

°

C is reached, strain the liquid into a clean pot and discard ingredients. Bring the liquid up to 80

°

C and add the shaved bonito, cook for 4 minutes. Strain and reserve the liquid.
Pork fat
Chop pork fat into cubes. In a pan, cover with water and cook over a medium heat. Keep cooking and adding water to pan until pork fat is very soft. Once fat is soft, continue cooking only until water has evaporated (when the pork fat starts to stick to the pan). Leave in the fridge to cool. Blitz fat and oil till smooth.
Garlic puree
Peel garlic cloves and cook in rice bran oil over a very low heat until slightly brown and soft (approx 45 minutes). Strain the oil and reserve to use as fragrant oil. Mash garlic to form garlic puree.
Miso butter tare
Mix one tablespoon of garlic puree with white miso, red miso, butter, honey and chicken fat. Fry in a sauce pan over medium heat until colour changes slightly (3 or 4 minutes)
Shoyu tare
Cook soy sauce, sake, mirin, sugar and dashi soaking liquid in pot until sugar has dissolved.
Chashu (pork belly)
In a small pot just bigger than the pork belly bring to the boil the shoyu tare, sake, mirin, crushed garlic, sliced ginger and spring onions. Add pork belly and cook in oven at 170

°

C for 1 hour and 45 minutes, turning pork belly every 30 min.
While pork is cooking, heat coals in a charcoal chimney on the stove top. When coals are red, pour into charcoal grill. Take pork belly from the braising liquid and sear each side of the belly over coals till darkened and caramelised. While searing, sprinkle coriander seeds and cumin seeds over the coals to impart some smoke and flavour. Slice the pork belly into 1 cm strips.
Shoyu ramen egg
Bring a pot of water to the boil. Gently add eggs to water and boil for 6 minutes. Transfer the eggs to iced water to cool down. Peel the eggs and soak in shoyu tare for as long as time permits.
Warrigal greens
Blanch warrigal greens in boiling water for 30 seconds, this will remove the toxic oxates from the leaves which can be harmful. Sauté the warrigal greens with butter, garlic puree and shoyu tare.
Pickled shiitake mushrooms
Bring soy sauce, vinegar, sugar and a cup of water to the boil. Add the shiitake mushrooms and cook for 20-30 minutes. Strain and cool to room temperature.
Grilled buttered corn
Grill corn in husks over coals till black all over. Peel off the husks, and rub with butter and garlic puree. Char corn cob on charcoal until slightly blackened. Slice corn kernels from cob ensuring that the strip remains intact and kernels don't seperate, while not getting too much of the white pith.
Burnt garlic oil
Combine peeled garlic and rice bran oil in a pot and cook over a medium heat, stirring until garlic is evenly black and hollow. Let mixture cool and blend in a blender. Add sesame oil and chilli paste.
Ramen assembly
Mix together approximately 2 parts chicken stock and 1 part dashi and bring to boil (ratio is to taste). Add 2 tablespoon of pork fat to a separate pan to melt. Add miso butter tare to the fat and fry briefly. Add stock dashi mixture to the pan and whisk to combine. Add a little at a time and taste. Season with little shoyu tare to taste. Boil plenty of water in a large pot. Drop noodles into water and cook until still hard (before al dente), roughly arround 1 min. Take noodles out of water and dunk in a bath of iced water to shock the noodles (this will help with the texture of the noodles).
Heat serving bowls up with some hot water. Dunk noodles in boiling water again for 10 seconds and place reheated noodles in the bowl. Cover noodles with broth. Place 2 slices of chashu, warrigal greens, half an egg, shiitake mushrooms, corn, spring onions, nori and a square of butter (2.5cm x 2.5cm) neatly on top of each bowl of ramen.
Serve with a small bowl of burnt garlic oil on the side.
For further information, please fonterraproudtobeachef.com.au.