RECIPE: Ryan Bussey's Chinese roast pork belly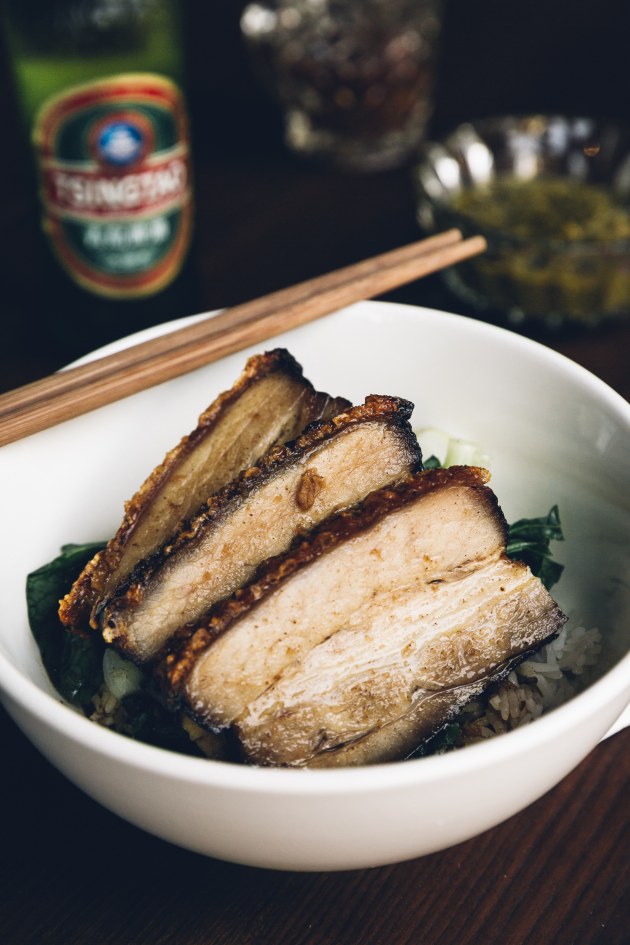 New modern Chinese eatery, DUK, has just opened in Byron Bay. To celebrate, head chef Ryan Bussey has shared with foodservice his recipe for roast pork belly.
CHINESE ROAST PORK BELLY
Start this recipe one day ahead.
1 kg piece pork belly
1/4 cup light soy sauce
1/4 cup hoisin
1/4 cup shaoxing
2 tsps Chinese five spice
2 cloves garlic, finely chopped
2 tsps ginger, finely chopped
Sea salt


Method
Score the pork rind deeply (just short of hitting the flesh) at 1cm intervals.
Place the pork on a wire rack, rind side up, over a sink. Carefully pour boiling water over the rind twice then pat dry with paper towel. Leave to cool for about 15 minutes.
In a bowl, mix together the sauces, five spice, garlic and ginger.
Transfer the marinade to a deep tray and pace the pork in gently, skin side up. Try not to get any marinade on the skin.
Refrigerate uncovered overnight to allow the pork skin to dry out.
The next day, preheat an oven to 170°C.
Transfer the pork belly to a roasting tray and reserve the marinade. Rub the skin with a good amount of sea salt, 1 to 2 teaspoons and massage it into the skin well.
Roast the pork at 170°C for 45 minutes. Increase the heat to 250°C and continue cooking until the skin is crispy, about 10 minutes.
While the pork is cooking, combine the reserved marinade with ¼ cup water in a small pot. Bring the sauce to the boil, reduce the heat to medium low and simmer uncovered for 10 minutes.
Serve the sliced pork over rice with steamed Asian greens and a little of the sauce.
 For further information, please visit dukbyronbay.com.