Recipe: Reynold Poernomo's steamed hapuka with caramelised garlic and finger lime dressing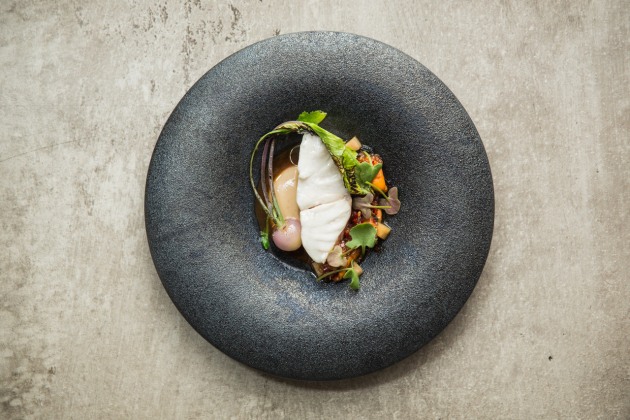 In March chef Reynold Poernomo announced he had rethought his Koi Dessert Bar in Sydney, switching its focus from intricate cakes to full dinner menus. This simple steamed hapuka dish is one of his first savoury flexes. 

Serves 10
1 kg hapuka fillet
200 g garlic cloves
350 g milk
200 g white soy
70 g mirin
Zest and juice of half a lime
20 g chives, chopped
15 g salmon roe
20 g finger lime jewels
1 bunch baby blush turnip, trimmed
Sea salt flakes
Grapeseed oil
Sorrel leaves or watercress
METHODLine a bamboo steamer with baking paper. Cut hapuka to 90-100g sized fillets and drizzle with oil and season with salt. Set aside on a small tray lined with baking paper. Smash garlic cloves and place in a saucepan with oil and cook until edges caramelise. Then add milk and boil for 15 minutes. Strain the milk into a container for later use. Blend garlic with a dash of milk and season with salt until smooth. Pass through a fine sieve. To make the dressing, combine mirin and soy in a saucepan and bring to the boil. Remove from heat and allow to cool completely. Then add in chives, roe, lime zest, lime juice and roe. When ready to serve, place baby blush turnip and fish into the bamboo steamer. Steam for 7-9 minutes, depending on the thickness of the fillets. Once cooked, remove fish and turnip and place onto a tray. Place a spoonful of garlic puree onto the middle of the plate and place the steamed hapuka on top. Slice baby turnips in half and place around the fish. Spoon over the finger lime dressing and garnish with sorrel leaves. Serve immediately.