RECIPE: Regan Porteous' fried chicken with Tabasco habanero sauce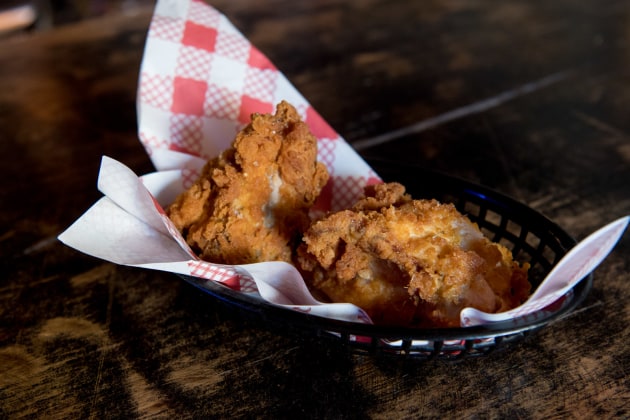 Parlour Group's group chef, Regan Porteous, shares with foodservice his recipe for fried chicken with Tabasco habanero sauce.
REGAN PORTEOUS' FRIED CHICKEN WITH TABASCO HABANERO SAUCE
Serves 4

The marinade
400 g plain yoghurt
1 bottle Tabasco habanero sauce
1 whole chicken (size 12 free range), portioned
In a large bowl, mix together the yoghurt and Tabasco. Add the chicken and allow to marinate in the fridge overnight.
The seasoned crumb
1 pkt pancake flour mix
100 g smoked paprika
50 g onion powder
25 g garlic powder
25 g dried oregano
10 g cumin powder
In a bowl, add all the ingredients and mix well. Set aside until ready to use.
The crumbing process
3 whole eggs, whisked
500 g plain flour
500 g seasoned crumb mix
Remove the marinaded chicken pieces from the yoghurt mix and toss through the plain flour. Then transfer the chicken to beaten egg wash before mixing well through the seasoned crumb mixture.
To serve
Preset your deep fryer to 140°C. Next, carefully add the chicken pieces one by one into the hot oil. Allow to cook. Once they rise to the surface and are crispy and golden, remove, drain and serve straight away.