Recipe: Peter Gilmore's red claw yabbies with buckwheat pikelets, cultured cream and lemon jam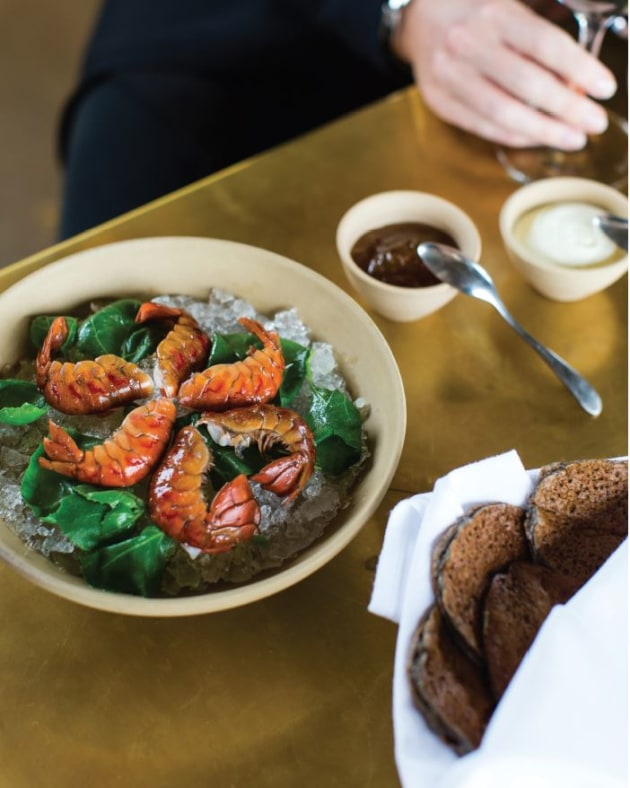 Peter Gilmore, executive chef of Sydney's Bennelong, shares with foodservice his recipe for red claw yabbies with buckwheat pikelets, cultured cream and lemon jam.


PETER GILMORE'S RED CLAW YABBIES WITH BUCKWHEAT PIKELETS, CULTURED CREAM AND LEMON JAM
Serves 4
Makes 24 pikelets
RED CLAW YABBIES
12 live freshwater yabbies
Salt bush, blanched
LEMON JAM
1.25 kg lemon, washed
500 g sugar
250 ml water
CULTURED CREAM
15 l water
185 ml anti-bacterial solution
15 l pure cream
7.5 tsp MM100 culture
METHOD
For the cultured cream, soak all equipment in diluted solution and sterilise for 30 minutes.
Heat the cream to 90ºC, then cool it down to 25ºC. Whisk in the culture and pour the cooled cream into desired containers. Keep in a polystyrene box, in a warm area for 36-48 hours. Refrigerate once the desired flavour develops.
Place the live yabbies in ice water to chill. Put on a large pot of salted water on the stove and bring to the boil. Once the yabbies are well chilled, place the yabbies into the boiling water. Allow the yabbies to boil for 3 minutes, remove from the water and plunge the yabbies into fresh ice water. Allow the yabbies to cool completely. Remove the heads with a sharp knife and discard. Split the tail in halves lengthways and devein.
For the buckwheat pikelets, combine all the dry ingredients in a large bowl. In a separate bowl add the melted butter to the milk. Whisk 1 whole egg into the milk and butter mixture. Combine the liquid and dry ingredients in the large bowl whilst whisking. In a clean bowl, whisk the egg whites until soft peaks form. Fold the egg white into the batter. Allow the batter to rest for one hour before use. In a hot non-stick pan, add a teaspoon of butter, and allow to melt evenly. Add a tablespoon of batter to the pan at a time and colour evenly on both sides.
For the lemon jam, peel and segment the lemons. Juice the remaining cores and reserve liquid. Place the lemon peel in a pot with cold water and bring to the boil. Drain well and repeat this process two more times, refreshing into ice water for the last time.
Blitz the lemon peel into evenly fine pieces, then place into a pot with segments, juice, sugar and water. Bring up to the boil and cook out at a high heat for 10 minutes. Reduce heat to a simmer and cook until jammy consistency.
TO SERVE
Place the yabby tails on top of a flat bowl of ice and garnish with saltbush, alongside a small bowl of lemon jam and cultured cream. Add a dollop of cultured cream and lemon jam and use hands to place yabby tails on pikelet.