Recipe: Paul Farag and Murat Ovaz's fried blue eye with sesame and cime di rapa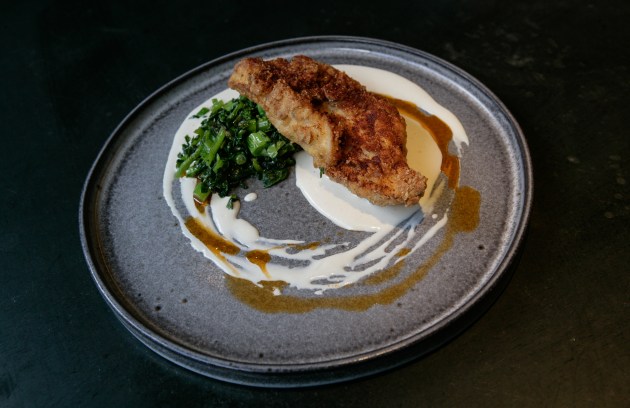 Paul Farag (head chef at Sydney's Fish Butchery) and Murat Ovaz (head chef at Melbourne's Yagiz) worked on this dish together for a collab dinner in Melbourne. Farag's fish finesse combined with Ovaz's Turkish flavours resulted in a creamy, crunchy dish with great tang from the greens and the sumac batter. 
Blue eye
● 500 g blue eye fillet cut into three pieces
● 100 g aioli
● 100 g buttermilk
● 20 g sumac
● 20 g salt
● 10 g black pepper
● 300 g flour
● 300 g maize flour
METHOD In a bowl, mix the aioli, buttermilk, sumac, salt and pepper and pour into a tray and set aside . Mix the two flours and set aside on another tray Using the two trays dip the pieces of fish in the wet mix and then flour mix, alternating until the fish is coated three times. Cook the fish in a deep fryer at 180°C. The outside should be golden brown and the core temperature of the fish should be just above 55°C.
Sesame sauce
● 150 g tahini
● 80 g lemon juice
● 5 g cumin ground
● 15 g salt
● 80 g water
METHOD To make the sesame sauce, whisk all the ingredients in a bowl until smooth.
Cime Di Rapa
● 500 g cime di rapa, washed and chopped
● Pinch of salt and pepper
● 1 tsp lemon
● 1 tsp sumac
METHOD For the cime di rapa, sautee the greens on a low-medium heat with the salt, pepper, lemon and sumac until soft.