RECIPE: Paolo Masciopinto's duck carpaccio with gorgonzola dressing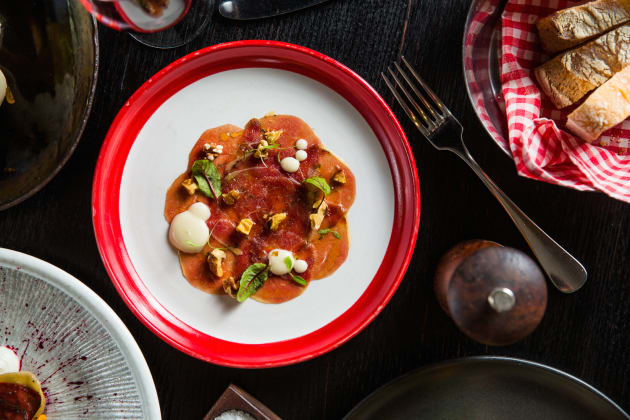 Paolo Masciopinto, head chef of Joe Mammone's Sarti in Melbourne, shares with foodService his recipe for duck carpaccio with gorgonzola dressing.
PAOLO MASCIOPINTO'S DUCK CARPACCIO WITH GORGONZOLA DRESSING
Makes 8-10 portions
 
Curing mixture ingredients
250 g moshulu duck breast
750 g rock salt
250 g sugar
10 pieces black pepper
1 bunch thyme
15 pieces juniper
10 pieces star anise
200 g orange zest, finely chopped
100 g sage leaves, finely chopped
20 walnuts, roughly chopped and toasted
1 bunch red vein sorrel leaves
 
Gorgonzola dressing ingredients
200 g gorgonzola
40 ml milk
4 tbsp oil
 
Curing
In mixing a bowl, add the salt, sage, pepper, thyme, juniper, and star anise, and stir until a paste is formed. Then add the orange zest and sugar and mix well.
Clean the duck breasts, but keep the skin on. Next coat the duck breast with orange zest mixture. Place two breasts together and tie with butcher string. Cover breast completely with curing salt and refrigerate for 48 hours.
Gorgonzola
In a medium-sized bowl, mix all the ingredients together until a smooth consistency.
To serve
Plate a small amount of skin on plate. Thinly slice duck breast and place 10 pieces on the plate. Top with a sprinkle of walnuts and dots gorgonzola dressing.
Garnish with a few red vein sorrel leaves.
For further information, please visit sartirestaurant.com.au.