Recipe: Mark Ebbels' tomato risotto, that you'd never guess is vegan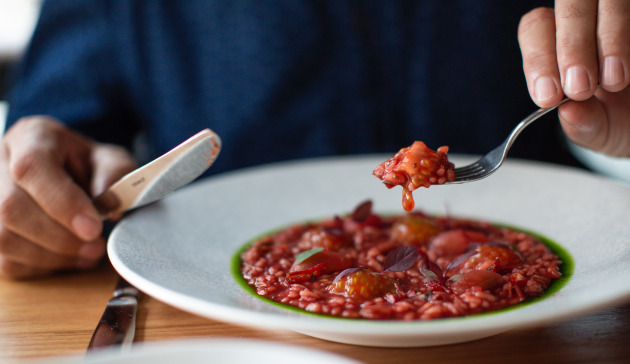 Mark Ebbels, head chef at hatted TarraWarra Estate in Victoria's Yarra Valley, runs a mostly plant-bsed and plastic-free fine diner. While sustainable proteins still feature on the menu, there's no other animals products in sight. That means no butter. And diners would never pick it. This risotto is a razor-sharp example of how a chef need not rely on age-old recipes to produce a great dish, and one that shows off this chef's wild creativity. 
SERVES 4
BASIL OIL
         ●  500g basil leaves
         ●  Grapeseed oil
         ●  Ice water
METHOD Blanch the greens in boiling water for 5-10 seconds. Scoop them out and refresh in ice water immediately, then wring all of the water out of the chilled herbs with a tea towel. Weigh the blanched herbs, then, weigh out double the weight of grapeseed oil into a separate container. Blend the blanched herbs and grapeseed oil thoroughly.
TOMATO  STOCK
         ●  2500g large red tomatoes
         ●  500g tomato paste
         ●  100g grapeseed oil
         ●  1600g vegetable stock
METHOD Set your oven as high as it goes. At TarraWarra, it is set at 250 degrees. Once the oven is hot, roast the tomatoes for about 20 minutes until they soften. Pass them through a fine sieve to remove the seeds and skin. Heat the tomato paste with the grapeseed oil in a large pot for approximately 10 minutes over medium heat. Add the roasted tomato liquid and vegetable stock, bring to a simmer then blend together. Chill and reserve until you want to serve the risotto.
RICE BASE
         ●  300g carnaroli rice
         ●  50g grapeseed oil
         ●  45g diced shallots
         ●  10g chopped garlic
         ●  240g white wine
         ●  900g vegetable stock
METHOD Place a large flat tray in the fridge to cool rice after it is cooked. Toast the rice in the grapeseed oil until fragrant in a pan. Meanwhile, warm the vegetable stock. Add the shallots and garlic to the toasted rice and cook for a few minutes to soften them. Add the wine and reduce until it has almost completely evaporated. Add vegetable stock a little at a time, stirring occasionally to make sure it doesn't stick to the bottom of the pan (you may not use all the vegetable stock, it depends on the size of your pan and the heat of your stove top). To test if the rice is cooked bite a grain in half. There should still be a tiny white bit in the centre. Once you have reached that point, spread the rice onto your cool tray in a thin layer to halt the cooking process. Reserve in the fridge until needed.

RISOTTO
         ●  2 cups tomato stock
         ●  Risotto base
         ●  250g Botanical Cuisine Cultured Cashew Butter
         ●  Lemon juice - to season 

         ●  Salt - to season 

         ●  Basil oil
         ●  Semi-dried tomatoes, sliced into small pieces to garnish
         ●  Cherry tomatoes, cut into quarters to garnish
         ●  3-4 marjoram leaves
METHOD Warm 2 cups of the tomato stock in a medium pot, add the pre-cooked risotto rice and bring to a simmer, adjust the consistency with more tomato stock. Remove from the heat and mix in the cashew butter. The quantity of stock and cashew butter is a personal preference – if you would like the dish to be creamy, add a lot of extra stock and butter. Season with salt and lemon juice and transfer to plates. Garnish with the basil oil, semi-dried tomatoes, cherry tomatoes and a few marjoram leaves. Serve immediately.