RECIPE: Mal Meiers' smoked pork jowl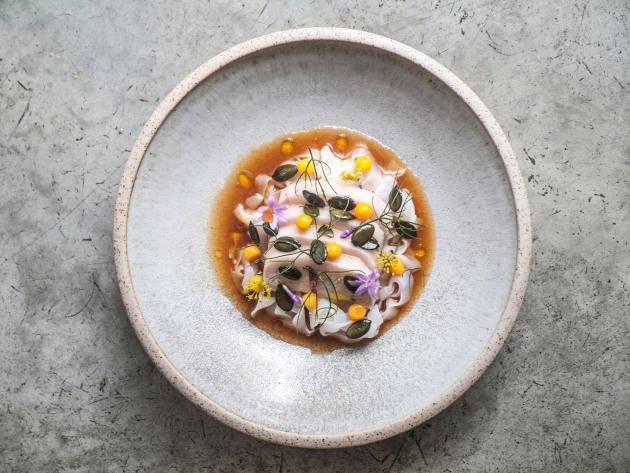 Foodservice's Next Generation Recipe Den is all about celebrating young, talented chefs from all over Australia. As part of it, we invited Mal Meiers, founder of charity dinners organisation Food for Thought, to share with us his recipe for smoked pork jowl.
MAL MEIERS' SMOKED PORK JOWL
Serves 4-6
Smoked pork jowl
2 jowls rind on about 600g each 
2 l brine
Olive oil
Method
Clean the glands from jowls and brine for 8 hours. Next vacuum in olive oil and cook at 85°C for a further 12 hours. Chill in ice water, and once the jowl is cool, clean away the skin reserving for another use or garnish if you wish.
Brine
2 l water
100 g salt
50 g brown sugar
Thyme
Bay leaves
Black pepper
Juniper berries
Allspice

Method
Stir all the ingredients together in a saucepan and bring the boil. Stir continuously until the sugar is dissolved. Allow to cool before using.
Calamari
500 g calamari tubes, cleaned
300 g extra virgin olive oil
Line up the calamari tubes one on top of the other and semi-freeze before slicing to noodle thickness. Portion out and reserve in the fridge.
Roast pumpkin broth
2 kg Japanese pumpkin
100 g kombu seaweed
2 tbsp salt
Cut the pumpkin into large cubes and roast in a hot oven until caramelised completely. In a large oven tray, combine the pumpkin and seaweed and cover with water. Sprinkle with salt and roast in the oven at 160°C for two hours. Remove from oven and cool. Strain carefully and reserve the broth.
Sea vegetables garnish
Activated pumpkin seeds
Saltbush
Samphire
Virgin pumpkin seed oil
Method
In a small bowl, combine all ingredients and set aside.
TO ASSEMBLE
Smoke the jowls prior to service over pine needles and hickory chips. Set aside in a warm oven.
In a small saucepan, begin to heat up the pumpkin broth.
Cook the calamari gently at 65°C in the extra virgin olive oil and strain before seasoning to taste. Place the confit calamari in shallow bowls. Next slice the jowl and place on top of the calamari.
Season pumpkin broth with salt and pumpkin oil and pour over the dish. Garnish with the sea vegetables and pumpkins seeds.