Recipe: Luke Hammond's vegan palmito ceviche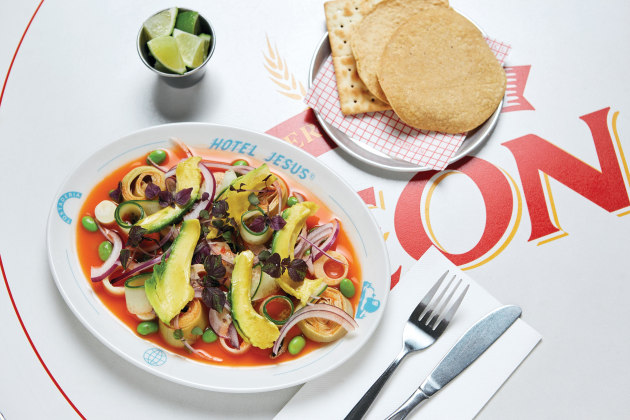 This vegan alternative to fish ceviche is typical to Ecuador, where the ceviches are quite saucy. Heart of palm, which is tinned or jarred for sale in Australia, has a nutty flavour, not too dissimilar to artichoke hearts. In Ecuador, cooked prawns are also sometimes added to this dish. Palmito ceviche is best served at room temperature.
Hotel Jesus, Melbourne
Serves 4
Aguachile
320 ml carrot juice
160 ml lime juice
3-4 medium sized habanero chillis
METHOD Combine ingredients in a blender and blitz until smooth. Add a pinch of salt to season, and set aside.
Palmito ceviche
12 palm hearts (tinned), sliced into 1 cm discs
8 cooked artichoke hearts, sliced into 1 cm discs
120 g soy beans
2 king oyster mushrooms, sliced into thin discs
1 red onion, quartered and thinly sliced
1 cucumber, sliced into ribbons on a mandolin
1 avocado, halved and thinly sliced
Micro shiso leaves for garnish
METHOD Divide ingredients into 4 portions. Lay palm heart slices on the plate first, evenly and without overlapping, then the artichoke hearts and mushroom slices. Sprinkle soy beans around the plate.
Slowly pour the Aguachile over the vegetables until covered. Place a few red onion slices over dish, followed by the cucumber ribbons and the avocado slices. Sprinkle with sea salt and garnish with micro shiso. Serve with tostadas and Salada biscuits.
Luke Hammond is the head chef at Hotel Jesus in Melbourne.