Recipe: Luke Churchill's dressed salmon sashimi with nashi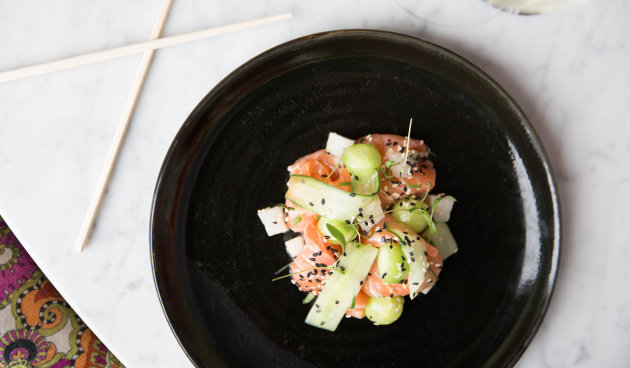 Luke Churchill, head chef at Sydney's Misfits, has the culinary answer to 30-degree-plus days. This quick and simple cold entree is an easy addition to any summer menu. Memorise this dressing to use on other raw seafood, tofu or vegetables.
Serves 4 
Ingredients:
400g sashimi grade salmon (skin and bones removed)
80g nashi pear
80g telegraph cucumber
2 cloves garlic
25g ginger
50ml rice wine vinegar
100ml extra virgin olive oil
50ml white soy
15ml mirin
Garnish:
Sesame seeds
Coriander
Sea salt
Method:
Slice salmon lengthways into thin strips – put in a sealed container and refrigerate for when you're ready to marinate. Make the dressing by finely grating the ginger and garlic into the rice wine vinegar and allow to sit for 10 minutes. Pass the vinegar mix through a fine strainer being sure to lightly press out all the liquid from the garlic and ginger to extract maximum flavour. Whisk the olive oil, soy and mirin into the strained vinegar until completely combine. Dice the nashi pear into 1cm cubes and set aside. Quarter the cucumber lengthways and remove the seeds by either slicing them out or scraping them out with a spoon – the skin will give good colour to the dish. Dice the cucumber flesh into 1 cm cubes and set aside. Place sesame seeds onto a baking tray and lightly toast in a pre-heated 140 degree oven for 10 minutes. Remove the seeds when they are a golden colour and allow to cool. Take the salmon from the fridge and place into a bowl. Dress the salmon liberally and season to taste with sea salt. Arrange salmon into a loose pile on a plate. Scatter the nashi and cucumber dice over the salmon and finish with sesame seeds and torn coriander leaves.