Recipe: Longrain's 
salmon in banana leaf with rendang curry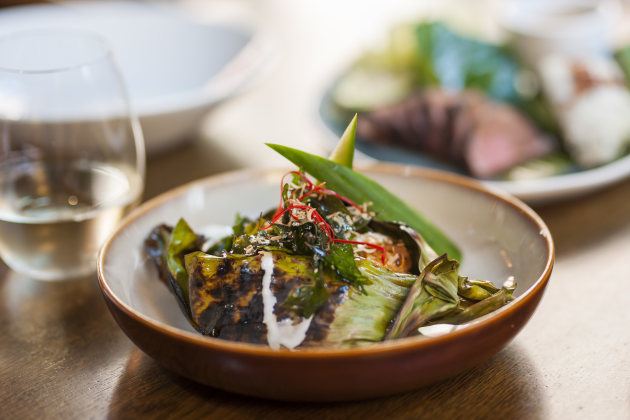 Longrain Sydney may be gone, but the Thai stalwart lives on in Melbourne in the safe hands of head chef Chaowarat Arté Assavakavinvong. Recreate the memories in your own kitchen with this spicy, tangy, smoky salmon. 
SERVES 2 TO SHARE
Rendang Paste
200 g red onion
100 g garlic
80 g ginger
40 g turmeric
80 g lemongrass
60 g galangal
5 g kaffir lime leaves
4 g dried chilli
25 g long dried chilli
10 g curry powder
15 g sea salt
METHOD Place red onion, garlic, ginger, turmeric, lemongrass, galangal, lime leaves and chilli into a robot coupe and blend until it becomes a uniform paste. Add curry powder and salt into the paste and mix to combine. Store the paste in a container.

Salmon chargrilled in banana leaf
100 g rendang paste
20 g coconut oil
20 ml coconut milk
10 g palm sugar
15 g fish sauce
150 g salmon fillet, skin off
Banana leaf for wrapping the fish
Garnish
Cucumber
Fried curry leaves
Toasted shredded coconut
Red chilli julienne
METHOD Cook the rendang paste with coconut oil and coconut milk on a low heat until the paste is fragrant and the colour is darker. This will take about 10-15 minutes. Remove from heat and allow the paste to cool. Cut the banana leaf into 25 cm x 25 cm squares. Smear the curry paste on the banana leaf and to coat the salmon, then wrap the banana leaf closed around the fish. Cook it on a charcoal grill or in the oven for about 10 minutes. Remove and serve straight onto the plate. Loosen the banana leaf parcel and garnish with toasted coconut and red chilli julienne. Serve with cucumber, lime and fried curry leaves on the side.
Chaowarat Arté Assavakavinvong is the head chef at Longrain in Melbourne. Longrain also has a restaurant in Tokyo.
PHOTOGRAPHY: ROBERTO PETTINAU
This article was first published in foodservice's May 2019 issue. Read the digital magazine here.