RECIPE: Laura Skvor's wild mushroom risotto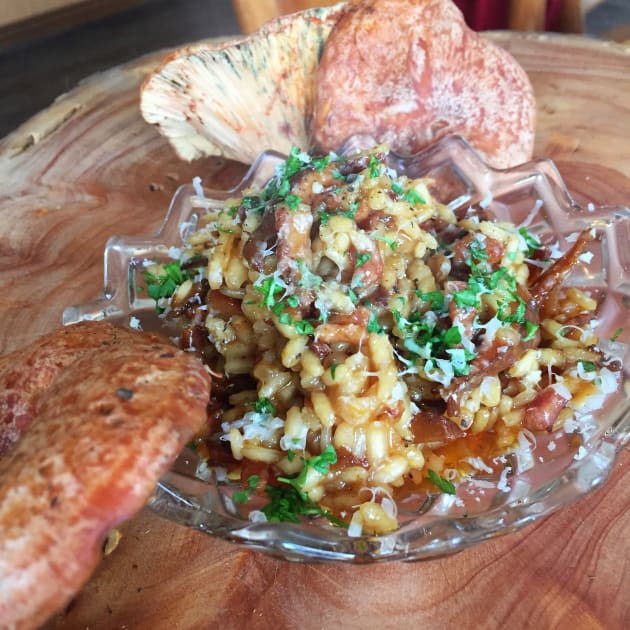 My Kitchen Rules finalist and the winner of this year's Best Commis award at the Bocuse d'Or Australian selection, Laura Skvor, shares with foodservice her recipe for wild mushroom risotto.
LAURA SKVOR'S WILD MUSHROOM RISOTTO
Serves 2
3 tbsp olive oil
60 g unsalted butter, plus extra if needed
500 g pine mushrooms, or another wild variety, finely sliced
200 g pancetta
1 medium brown onion, finely diced
3 cloves garlic, finely diced
100 ml white wine
200 g Arborio rice
1.5 L chicken or mushroom stock
Salt
Pepper
Parmesan
Parsley, roughly chopped
METHOD
Begin by heating the stock and hold on a low simmer.
In a large frying pan, heat the oil over a high heat. Finely slice the mushrooms and add to the pan. Season with salt and pepper, and sauté until the mushrooms become dark caramel in colour. Next add the pancetta and fry with the mushrooms until crispy. Add the onion, garlic and butter, and allow to soften. If the mushrooms soak up too much butter, add extra as required.
When the onion and garlic are tender and fragrant, add the Arborio rice. Cook for about a minute, or until the grains begin to turn opaque. Deglaze the pan with the white wine and stir until the rice soaks up the liquid. Next slowly add the stock to the rice, one ladle at a time, allowing for the rice to gradually absorb the liquid. Stir the rice regularly and always in the same direction. After about 20 minutes, most of the stock will have been added, set a little aside. The rice should be soft but al dente.
Turn the heat down, add a few extra knobs of butter to the risotto and grate a good handful of Parmesan over the top. Cover and allow the butter and cheese to melt for a few minutes. Uncover the risotto and stir. Taste and check the seasoning and texture of the risotto. It should be wet and soft, but hold its shape. Add a little extra stock if need be.
To serve, divide among 2 plates and top with Parmesan and parsley.
Skvor will assist Australia's representative Michael Cole at the Asia-Pacific heat of Bocuse d'Or in 2018.