RECIPE: Keith Jones' torched orange tart with blood orange gel and citrus meringue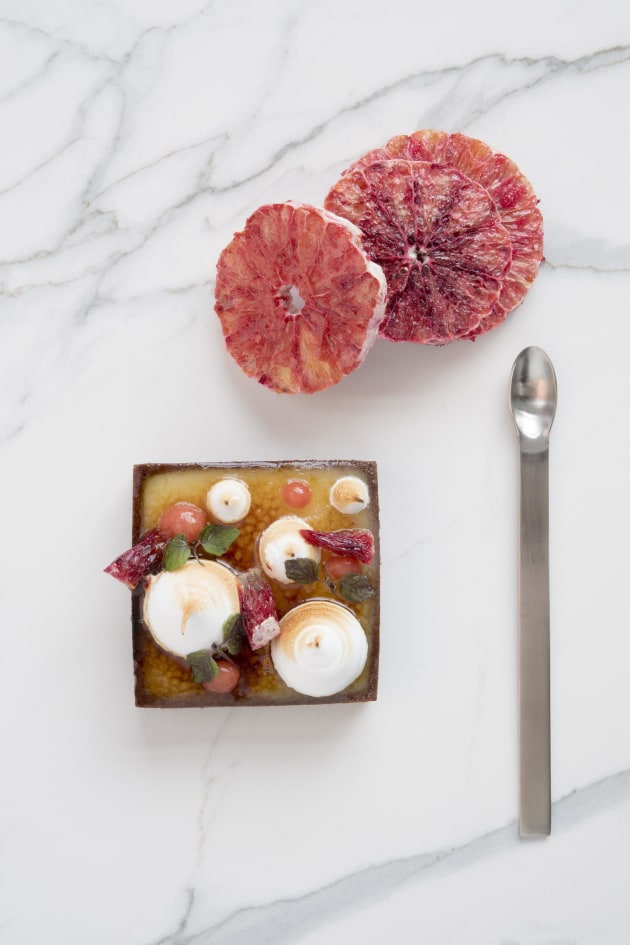 Group executive chef of No. 1 William at Sydney's Australian Museum, Keith Jones, shares with foodservice his recipe for torched orange tart with blood orange gel and citrus meringue.
KEITH JONES' TORCHED ORANGE TART WITH BLOOD ORANGE GEL AND CITRUS MERINGUE
Makes 12 tarts
TART
90 g unsalted butter
65 g caster sugar
3 egg yolks
200 g plain flour, plus extra for dusting
1 lime zest
Freeze dried blood orange
Purple basil leaves
METHOD
Cream the butter and sugar together in a bowl until well combined. Then one by one, beat in the egg yolks until fully incorporated into the mixture. Fold through the lime zest. Then add the flour and work the mixture delicately until a ball of dough is formed.
Preheat the oven to 180°C. Then on a lightly floured work surface, knead the dough until smooth. Wrap in cling film and chill for 30 minutes. Alternatively, it can be frozen for use at a later date.
When ready to be used, sprinkle some flour on your work surface. Divide the dough into 12 portions and then use a rolling pin to roll each portion into even square shapes. Line 12 square molds (7 x 7cm) and bake blind for 12 minutes or until golden. Remove from the oven and set aside.
ORANGE CURD
2 large eggs
65 g caster sugar
90 ml premium orange juice
165 g unsalted butter
METHOD
Heat a small saucepan over a low heat and add the orange juice and butter. Allow to melt then bring to the boil.
In a separate bowl, whisk the whole eggs and sugar until light and fluffy. Then slowly mix in the juice blend.
Return the mixture back to the pan and stir until thickens. Set aside until required.
CITRUS MERINGUE
60 g egg whites
120 g caster sugar
Zest of ¼ lemon
Zest of ¼ orange
1 tsp lemon juice
¼ tsp cornflour
METHOD
In a large bowl, whip the egg whites until foamy. Gradually beat in the sugar and cornflour until the mixture is light and fluffy. The add the zest and juice. Mix well and set aside.
BLOOD ORANGE GEL
100 ml The Juice Farm rosso blood orange juice
3 g Xanthan gum powder
METHOD
In a small bowl, add the juice and gum powder. Blend until a gel like consistency forms. If the mixture is too thick, add a little more juice.
TO ASSEMBLE
Fill the tart shells with orange curd, and gently tap to create a level surface. Pipe a number of different sized meringues on top of the curd, before gently scorching the meringues with a blowtorch. Next pipe on balls of the blood orange gel. Garnish with a sprinkling of freeze dried blood orange pieces and purple basil. Chill until ready to serve.
For further information, please visit australianmuseum.net.au/no-1-william.