Recipe: Jon Touillet's spatchcock with polenta, mushrooms and tarragon jus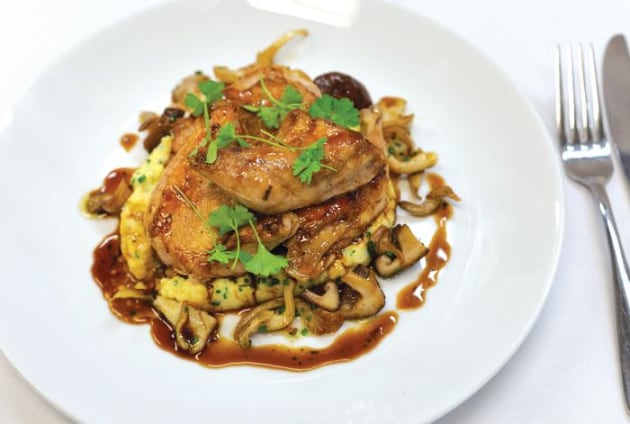 The weather's cooling down so the oven's turning up, there are mushrooms in the cool room, and the polenta's getting creamier. This hearty main from Sydney's Bistro Mosman serves four. 
POLENTA
200 g polenta
0.5 l chicken stock
0.5 l milk
25 g butter
½ bunch chives
METHOD In a saucepan, bring the chicken stock and milk to the boil. Slowly add the and stir. Bring to a simmer and stir continuously, until the polenta thickens. Add the butter, chives, and seasoning to the polenta. Set aside.
MUSHROOMS
100 g shiitake mushrooms, chopped
100 g shimeji mushrooms, chopped
100 g oyster mushrooms, chopped
100 g baby king brown mushrooms, chopped
Olive oil
Butter
2 garlic cloves, finely chopped
½ bunch parsley, finely chopped
METHOD In a small saucepan, heat a splash of olive oil and a knob of butter. When foaming, add the chopped mushrooms and cook well. Finish with garlic, parsley, and seasoning. Set aside.
TARRAGON SAUCE
250 ml veal base
100 ml cream
½ bunch tarragon, finely chopped
METHOD In a saucepan, reduce the veal base to a thick texture. Add the cream, mixing well. Reduce a little more, then stir through the chopped tarragon. Set aside.
SPATCHCOCK
4 medium-sized spitchcock, butterflied
0.05L cooking oil
15 g butter
METHOD Preheat the oven to 180°C. In a fry pan on high heat, add some cooking oil and add the spatchcock with the skin side down. Cook for 2 minutes or until brown and crispy. Lower the heat to medium, add the butter and flip the spatchcock, and cook for a further 7 minutes. Transfer the spitchcock to the oven, and roast for about six minutes. Remove from oven and rest in a warm place for 5 minutes.
TO ASSEMBLE In four plates, make a circular bed of creamy polenta. Surround with the mushrooms and top with the spatchcock. Drizzle with the tarragon sauce and garnish with micro-herbs. Serve immediately.
Jon Touillet is the head chef of Sydney's Bistro Mosman.