RECIPE: Jason Anderson's Burt Reynolds hoagie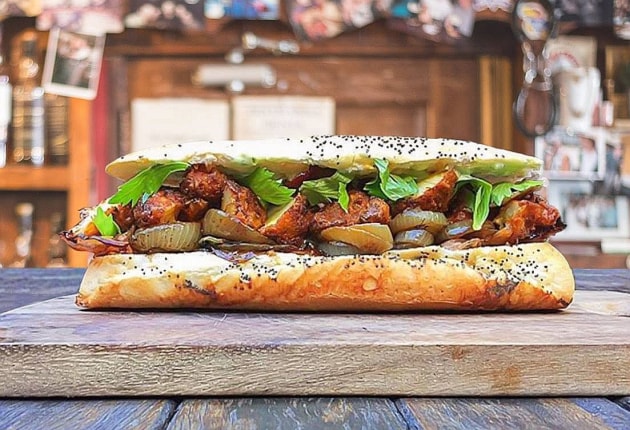 Head chef of Brisbane's Buffalo Bar, Jason Anderson, shares the recipe for his Burt Reynolds hoagie.
JASON ANDERSON'S BURT REYNOLDS HOAGIE
Serves 1
Hoagie
1 hoagie roll
120 g cauliflower
30 ml Tabasco buffalo sauce
Softened butter
30 g white onions
20 g smoked cheddar
1 jug XXXX Summer beer
30 g flour
1 egg

Beer batter
250 ml XXXX Summer beer
100 g flour
1 egg
10 g cornflour
Pinch turmeric
Method
Portion the cauliflower into bite-sized pieces and then smoke in the smoker for 1 hour.
In that time, make the beer batter by combining the flour, egg, cornflour and turmeric in a large bowl. Next slowly pour in the beer and whisk continuously until smooth.
In a hot pan, sauté the onions with XXXX Beer until soft.
Once smoked, place the cauliflower in XXXX Summer batter and coat well. Transfer to the deep fryer and fry until golden brown.
Blend the Tabasco buffalo sauce with the butter. Next, toss the smoked cauliflower in buffalo Tabasco butter and set aside.
To assemble, halve the hoagie roll, lather the ranch sauce on the bottom half and add the beer onions and Buffalo cauliflower. Finely grate the smoked cheddar over the top of the cauliflower then top with the lid. Serve immediately.
For further information, please visit buffalobar.com.au.