Recipe: Jaclyn Koludrovic's vacherin of Geraldton wax leaf and Granny Smith apple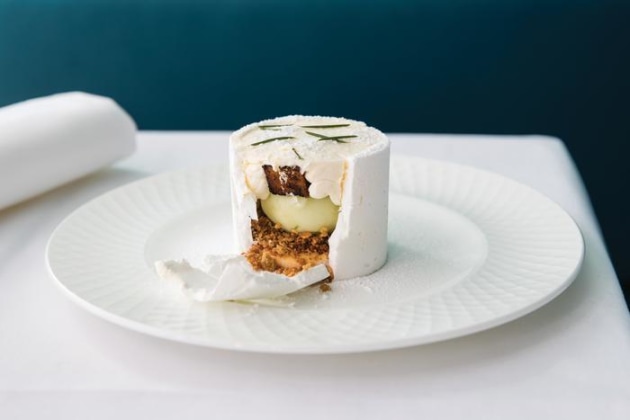 Geraldton wax leaf is a native shrub that is endemic to Western Australia. Although the flowers are pretty, they are very bitter and astringent when eaten raw. However the spindly leaves have more of a citrus pop. I like to infuse the whole sprig, flower, stalk and all, but to garnish I only use the young leaves. The preparation for this dish needs to begin 24 hours before serving. 
ICEBERGS DINING ROOM, SYDNEY – SERVES 10
MERINGUE COLLAR
170 g egg whites
255 g caster
¼ tsp cream of tartar
Method
To prepare the acetate, use a 5 cm cake band cut into 28 cm lengths, and secure it to your bench with tape so it doesn't move. Place all ingredients in a bowl and whisk by hand over a double boiler until the mixture reaches 65 degrees. Immediately transfer to an electric mixer, attach the whisk and whip until body temperature. Meringue should be satin-like and thick. Spread onto prepared acetate, approximately ¼ of a cm thick, only spreading the meringue to 26 cm of the 28 cm piece. The extra 2 cm is for the join. Form into a cylinder and seal with tape. Place onto a lined dehydrator tray and dehydrate at 70 degrees overnight, or a minimum of 12 hours. Gently remove acetate before storing in an airtight container.
GERALDTON WAX LEAF CUSTARD
800 g pouring cream
90 g caster sugar
10 sprigs of Geraldton wax leaf, chopped finely with scissors
100 g white chocolate, roughly chopped
10 egg yolks
Method
Preheat the oven to 90 degrees, no fan. Bring cream, sugar and wax leaf to a boil in a saucepan then remove from heat. Put white chocolate in a bowl and pour cream mixture over the top and allow to stand for 10 minutes. Gently mix the cream into the egg yolks so as not to incorporate any air, then pass the mixture into a half tray (half hotel pan). Cover the tray with 3 layers of cling film and place in an oven on the lowest rack and cook undisturbed for 20 minutes. To test, carefully give tray a little wobble; if the mixture seems very wet, continue cooking. When the mixture is ready it should look firm and have the slightest give just in the centre. Uncover and cool on the bench before covering and chilling overnight in the fridge.
BROWN BUTTER CRUMBLE
140 g rolled oats
80 g brown sugar
¼ tsp baking powder
100 g cold unsalted butter
40 g egg whites
Pinch of salt
40 g raw sugar
½ tsp ground cinnamon
Method
In a hot pan brown your butter, then pass and chill. In a bowl mix oats, sugar and baking powder together and rub in the cold brown butter. Using a spatula, work in the egg whites to form a paste. Roll this mix out thinly between sheets of baking paper. Store in the freezer until ready to use. Peel off the baking paper from 1 side while still frozen and bake until golden on 150 degrees. Once cooled, process the biscuit back into crumbs and add cinnamon powder, raw sugar and salt. Set aside in an airtight container until ready to use.
GRANNY SMITH APPLE SORBET
Skin of 3 Granny Smith apples
170 g caster sugar
150 g trimoline
150 g water
Juice from 2 lemons
1200 g Granny Smith apples
Method
Place sugar, trimoline and water into a pot and warm to dissolve, then set aside to cool. Chop apples, core and all, and mix with skins and lemon juice. Add cooled syrup. Push all ingredients through a slow juicer and immediately churn in your ice-cream churner according to the manufacture's instructions.
GERALDTON WAX SPONGE
4 eggs, separated
55 g Geraldton wax leaf sugar (see below)
50 g caster sugar
60 g flour
Salt
Method
(For the Geraldton wax leaf sugar, place 100 g caster sugar in the Thermo mix with 30 g of Geraldton wax leaves. Process to a powdered sugar. Weigh the 55 g needed for the cake and reserve what is left.)
Triple-sift flour into a bowl and set aside with a pinch of salt. Whisk yolks in another bowl until they begin to go pale. Add Geraldton wax leaf sugar to the yolks gradually until the mixture is very pale and smooth. Transfer yolks to a large mixing bowl. Begin to whisk egg whites in an electric mixer fitted with the whisk on medium speed until they begin to ribbon. Rain in caster sugar slowly until the mixture is thick, smooth and glossy. Sift flour again over the yolks. Add whites on top of the flour and fold together gently. Place mixture in a lined half tray (half hotel pan) and carefully spread smooth the top. Bake immediately for approximately 8-10 minutes, or until the top feels firm with a slight spring back. Cool at room temperature and place in the freezer for 20 minutes, then remove and dice the sponge into 1.5 cm cubes and set aside until ready to serve.
CHANTILLY CREAM
400 g single cream
10 g caster sugar
1 vanilla bean
1 lemon strips
3 g gold leaf gelatine
Method
Bloom gelatine in cold water. Bring remaining ingredients to a boil. Add gelatine and pass. Leave overnight before whipping and placing in a piping bag.
TO SERVE
When ready to serve, toss sponge squares in extra caster sugar and caramelise with a blowtorch and allow to cool. Place meringue ring in the centre of a serving plate. Spoon in a generous tablespoon of custard, add 1 tablespoon of brown butter crumble, 1 scoop of granny smith apple sorbet and 3 cubes of caramelised sponge. Top with Chantilly, smoothing off the top, dusting with icing sugar and garnishing with a few sprigs of Geraldton wax leaf.
Jaclyn Koludrovic is the head pastry chef at Icebergs Dining Room in Sydney.
This article was first published in foodservice's June 2019 issue. Read the digital magazine here.