RECIPE: Gabrielle Langholtz's oyster po' boys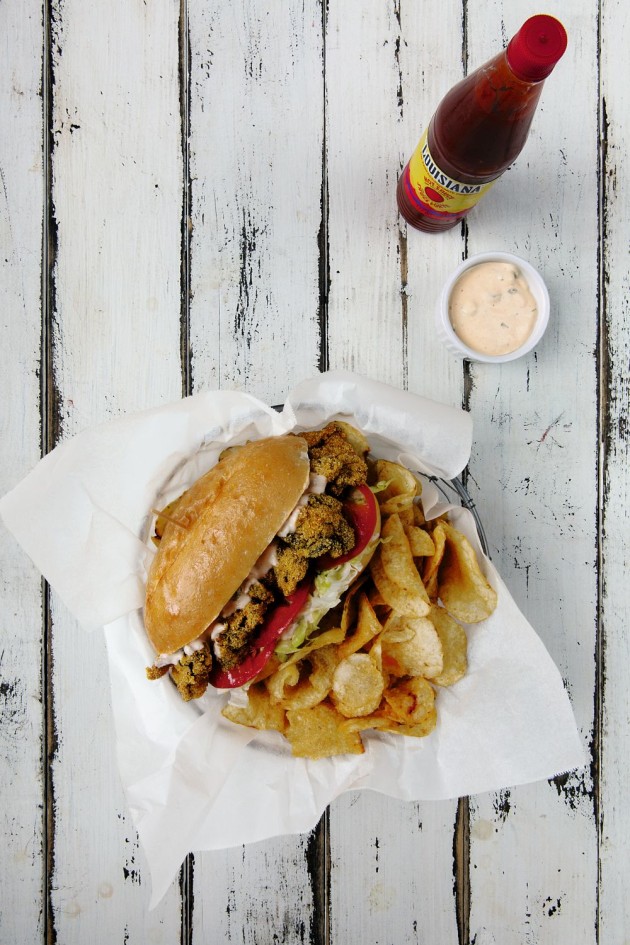 On the launch of her new recipe book America: The Cookbook, Gabrielle Langholtz shares with foodservice her recipe for a New Orleans' classic, oyster po' boys.


GABRIELLE LANGHOLTZ'S OYSTER PO' BOYS
This New Orleans-style sandwich owes its name to streetcar union members - the poor boys striking in 1929 to whom the Martin Brothers Coffee Stand and Restaurant provided large sandwiches for free. Fried oyster po' boys remain the best known of the sandwiches, though at the annual Oak Street Po-Boy Festival in New Orleans, visitors can try shrimp, crawfish, catfish, softshell crab, and even schnitzel po' boys.
Preparation time: 10 minutes, plus resting time
Cooking time: 10 minutes
Serves: 4
For the rémoulade
1 cup (210 g) mayonnaise
½ cup (120 ml) sour cream
4 tbsps roughly chopped cornichons
1 tbsp Creole mustard
1 tbsp Louisiana-style hot sauce, such as Crystal
1 tbsp chopped fresh parsley
2 tbsps fresh lemon juice
Salt and freshly ground black pepper
For the oysters
36 shucked large oysters
2 cups (475 ml) buttermilk
2 tbsps Louisiana-style hot sauce, such as Crystal
Peanut (groundnut) or vegetable oil, for deep-frying
2 cups (260 g) cornmeal
½ cup (65 g) all-purpose (plain) flour
1½ tablespoons onion powder
1½ tablespoons garlic powder
1½ teaspoons smoked paprika
Pinch of cayenne pepper
Salt
For the sandwiches
2 large hoagie/sub/po' boy rolls (each about 12 inches/30 cm long)
2 cups (150 g) finely shredded iceberg lettuce
2 tomatoes, sliced
Louisiana-style hot sauce, for serving (optional)
For the rémoulade
In a medium bowl, combine the mayonnaise, sour cream, cornichons, mustard, hot sauce, parsley, and lemon juice. Season to taste with salt and pepper.
For the oysters
In a large bowl, soak the oysters in buttermilk and hot sauce for at least 20 minutes and up to 30 minutes.
Pour 3–4 inches (7.5–10 cm) oil into a large heavy pot or deep-fryer and heat to 375°F (190°C).
In a shallow dish, whisk together the cornmeal, flour, onion powder, garlic powder, smoked paprika, and cayenne. Drain the oysters and toss them in the seasoned cornmeal. Working in batches, fry the oysters until golden and crispy, about 3 minutes. Remove with a slotted spoon and drain on paper towels. Season to taste with salt.
For the sandwiches
Split the rolls and spread each with ⅓ cup (120ml) rémoulade. Line with shredded lettuce and tomato slices. Top with fried oysters. Close the rolls and cut each sandwich into 2 pieces. Serve immediately, with the remaining rémoulade and hot sauce alongside, if desired.
This is an edited extract from America: The Cookbook by Gabrielle Langholtz published by Phaidon $59.95 and is available in stores nationally on October 9.