RECIPE: Francesco Mannelli's hiramasa kingfish sashimi 
with macadamia and sweet and sour onions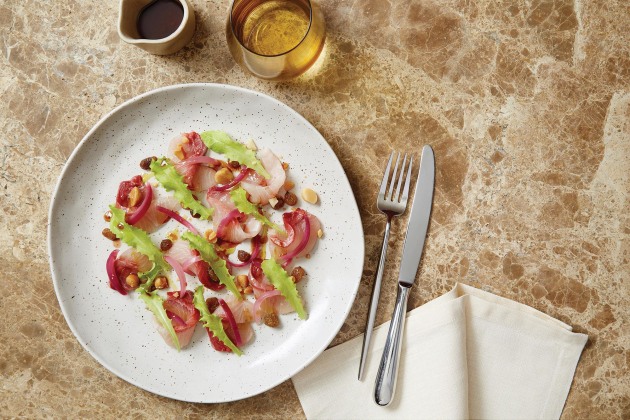 Mode Kitchen & Bar's head chef, Francesco Mannelli, shares his recipe for hiramasa kingfish sashimi with macadamia and sweet and sour onions.
100 g hiramasa kingfish
20 g toasted macadamia nuts
½ red onion
10 g soaked dry currants
30 g caster sugar
60 g red wine vinegar
20 ml extra virgin olive oil
1 bay leaf
Green endives or bitter leaves
Pink salt
Black pepper
METHOD
Slice the red onion into thin strips. Combine one part red wine vinegar to two parts water with a pinch of salt and one bay leaf. Bring the mixture to a boil and blanch the sliced onions for 30 seconds. Quickly cool the onions by freezing for one minute. This thermal shock creates the bright pink colour.
To make the sweet and sour sauce, caramelise the caster sugar using a saucepan until it develops into a light blonde colour. At the same time, bring the red wine vinegar to a boil. Whisk the two together and reduce the mixture by two thirds until thick but thin enough to drizzle at the same time. Place aside to cool.
Slice the hiramasa kingfish into 3-4 mm slices and dress with a pinch of pink salt.
Plate the sashimi in waved portions and sprinkle the soaked dry currants and toasted and halved macadamia nuts. Then plate the pickled onions, drizzle the sweet and sour sauce, olive oil and season with freshly cracked pepper. Garnish the dish with endive leaves to finish the dish.
Francesco Mannelli is the head chef of Mode Kitchen & Bar at Four Seasons Hotel Sydney.