RECIPE: Deepak Mishra's royal spice and vodka-cured ocean trout 
with calamansi lime gel, fennel-infused beetroot, 
mastic pressed melon and whipped goats curd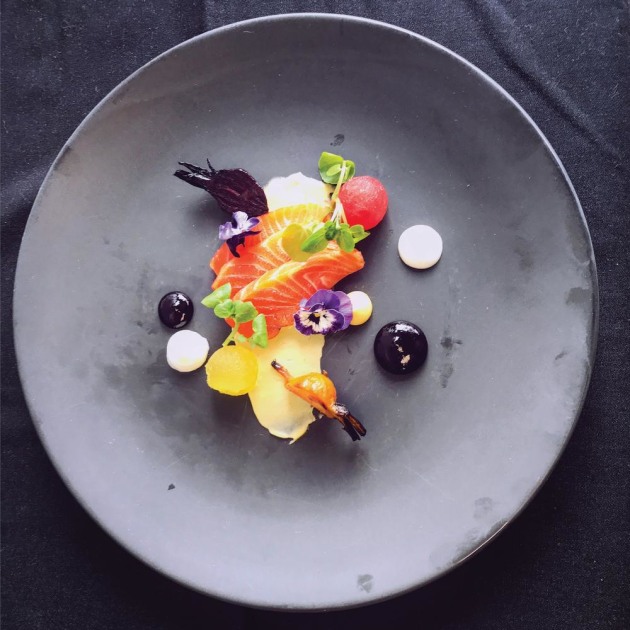 Deepak Mishra, executive chef of The Langham, Melbourne, shares with foodservice his recipe for royal spice and vodka-cured ocean trout with calamansi lime gel, fennel-infused heirloom beetroot, mastic pressed melon and whipped goats curd.


DEEPAK MISHRA'S ROYAL SPICE AND VODKA-CURED OCEAN TROUT WITH CALAMANSI LIME GEL, FENNEL-INFUSED HEIRLOOM BEETROOT, MASTIC PRESSED MELON AND WHIPPED GOATS CURD
Serves 4
VODKA-CURED OCEAN TROUT
600 g ocean trout, skin on and bones removed
200 g salt and sugar curing mix (ratio: 500 g salt to 1.3 kg sugar)
7 cardamoms
5 g Szechuan pepper
2 cinnamon sticks
10 g coriander seeds
2 star anise
10 juniper berries, bruised
10 g fennel seeds
½ lemon zest
½ orange zest
30 ml lemon gin or vodka
METHOD
Combine all the dry spices in a pan and lightly toast them. Transfer the spices to a food processor and coarsely blitz. In a large bowl, add the spices, salt and sugar curing mix, the orange and lemon zest, and lemon gin or vodka. Mix well.
Place half the mixture on the base of a large tray. Place the ocean trout on top and cover with the remaining mixture, pressing it down on the fish. Cover with plastic wrap and place in the fridge for 1½ to 2 days. Check after 36 hours.
Dry brush off the cure mix from the fish. Slice the ocean trout into 7 mm slices and keep refrigerated until required.
WHIPPED PERSIAN FETA
100 ml Persian feta
30 ml extra virgin olive oil
½ lemon zest
¼ tsp freshly ground fine fennel powder
½ tsp drops of honey, or to taste
Salt and pepper
METHOD
In a large bowl, combine all the ingredients and whip in a food processor on a low speed until smooth.
COMPRESSED WATERMELON
200 g red watermelon
200 g yellow watermelon
6 cardamon pods, bruised
10 g tarragon, finely chopped
10 g mint, finely chopped
METHOD
Tightly vacuum pack the red and yellow watermelon with the bruised cardamom, tarragon and chopped mint. Leave overnight and use a melon baller to shape into balls.
SMOKED BEETROOT GEL
100 ml beetroot juice
1 tsp honey
15 g brown sugar, if required
20 g pomegranate molasses
Salt
Pinch of Sosa Smoke Powder
1 g agar-agar powder
METHOD
Bring the beetroot juice to the boil before lowering the temperature and adding the molasses, honey, agar-agar and hint of smoke powder. Combine well and allow to cool and set in the fridge. Once set, transfer to a food processor and whip to make a glossy gel. Set aside.
CALAMANSI GEL
100 ml calamansi lime juice (grapefruit if not available)
½ lime juice
½ tsp honey
1 g agar-agar power
METHOD
In a small saucepan, heat the calamansi juice and honey before whisking in the agar-agar powder. Transfer the mixture to half-round silicon moulds and allow to set in a fridge, turn out as required.
TO ASSEMBLE
Begin by using a small spatula to smear a little whipped feta across four plates. Next transfer the smoked beetroot gel to a piping bag and place small drops on each plate. Repeat with the kalamansi gel. Add 3 pieces of the ocean trout and surround with a few watermelon balls and roasted beetroots.