RECIPE: Declan Carroll's beef short rib with chimichurri, beef sauce and beer-pickled onion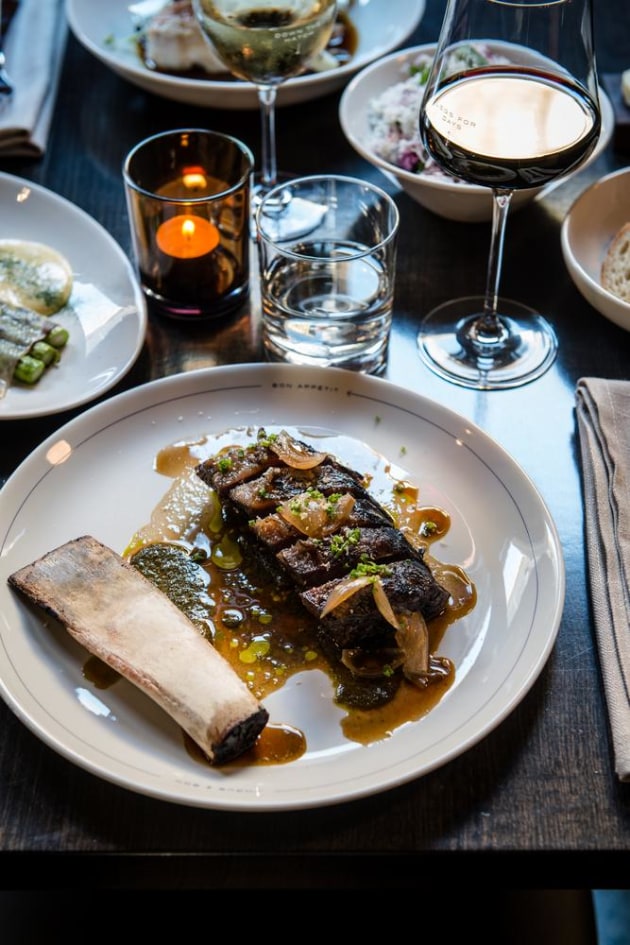 Declan Carroll, the executive chef of Melbourne's Angus & Bon, shares with foodservice his recipe for beef short rib with chimichurri, beef sauce and beer-pickled onion.


DECLAN CARROLL'S BEEF SHORT RIB WITH CHIMICHURRI, BEEF SAUCE, AND BEER-PICKLED ONION
Serves 4-6
Beef sauce
2 kg beef trim, fat removed and diced
2 l red wine
5 white peppercorns
1 clove
1/2 cinnamon stick
1/3 bunch of thyme
1 bay leaf
3 celery sticks, peeled and diced
4 garlic cloves, peeled and diced
1 onion, peeled and diced
3 carrots, peeled and diced
10 l beef stock
Olive oil
Method
Pour some olive oil in a large pot then heat over high heat. Add the beef trim and allow to caramelize. Pass the beef through a sieve and remove any leftover fat.
Return the pot to the stove with fresh olive oil and add the chopped vegetables, allow to colour. Next add the beef together with the spices and cook for 5 minutes. Add 500 ml of red wine and reduce to a syrup. Repeat this twice. Then add the rest of the wine and reduce by half. Next add 1/3 of the beef stock and reduce by half, skimming while it simmers. Add 1/3 more of thebeef stock, reduce and skim. Add the final 1/3 of the beef stock, reduce and skim. Pass the mixture through a fine sieve before transferring it to the coolroom. Next day, divide the beef sauce into portions.


Beer-pickled onions
440 ml dark beer
250 ml apple cider vinegar
130 g sugar
10 juniper berries
5 black peppercorns
2 sprigs of thyme
Pinch of salt
2 kg baby onions
Method
In a medium-sized sauce pan add the beer, apple cider vinegar, sugar, juniper berries, black peppercorns, thyme and salt, and bring to the boil.
Quarter the onions and steam for 2 minutes. Next pour the pickle mixture over the onion shells nd transfer them to the coolroom until needed.


Chimichurri
1 bunch of parsley, finely chopped
1 bunch of oregano, finely chopped
1 bunch of thyme, finely chopped
1 bunch of sage, finely chopped
200 g garlic, finely chopped
5 g dried chilli, finely chopped
5 g salt
5 g white pepper
250 ml red wine vinegar
400 ml olive oil
Method
In a large bowl, add the finely chopped parsley, oregano, thyme, sage, garlic and chilli.
Next add the olive oil, red wine vinegar, salt and pepper, and combine well. Set aside.


Beef short rib
2 kg grain-fed beef short ribs
100 g Murray River pink salt
50 g caster sugar
200 ml vegetable oil
Method
Mix the salt and sugar together, coat the short ribs and leave to cure for 6 hours. Next rinse off the salt mix and pat dry. Vacuum pack the short ribs with the vegetable oil. Cook at 75°C for 14 hours, either in a water bath or combi oven. Transfer to an ice bath and allow the short ribs to cool.