RECIPE: David Green's monsoon gin and tonic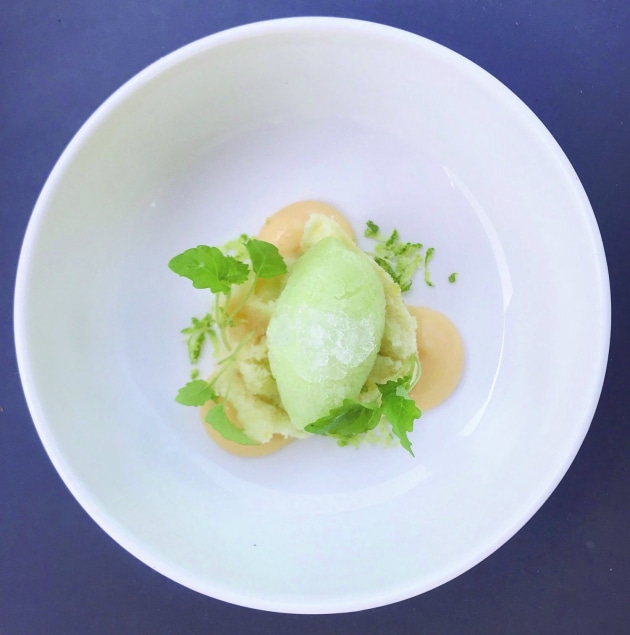 Lindenderry at Red Hill's reimagined restaurant, The Dining Room, has appointed David Green as its new executive chef. To celebrate, Green has shared with foodservice his dessert, monsoon gin and tonic.
Cucumber and lime sorbet
4 cups water

350 ml cucumber juice

1 cup lime juice

300 g corn syrup

300 g simple syrup

Pinch of salt

METHOD

Add all of the ingredients together in a blender. Mix well and freeze overnight.

Gin and tonic mix
250 ml tonic water

1 shot gin

METHOD

Combine the tonic water and gin in small container, and freeze overnight.

Lemon sponge
570 ml milk

570 g sugar

270 ml oil

520 g flour

315 g egg white

54 g yolks

15 g salt

Zest of 6 lemons

12.5 g baking powder

METHOD
Combine all the ingredients in food processor and whizz together, starting slow and aerating the mixture as much as possible. Lightly coat a microwavable cup with a non-stick spray and fill a quarter of the way up. Place in a microwave and cook for 50 seconds. Tip out from cup on to a plate and allow to cool slightly before cutting into a desired shape.

Lemon curd
3 eggs

140 g sugar

1/2 vanilla bean (or 1/4 tsp of paste)

130 ml lime juice

2 sheets of gelatin, bloomed

200 g butter

Pinch of salt


METHOD
Combine the eggs, sugar and vanilla and mix well. Transfer to a bowl over water or in a double boiler. Stir as the mixture begins to heat. Add the lime juice and whisk continuously to stop the lime juice cooking the eggs. Remove the mixture from the stove when it has thickened and has reached an internal temperature of 85℃. Add the gelatin and butter, and stir through ensuring the bitter has melted through and is smooth. Pass through a fine chinois or mesh strainer. Cover directly with plastic and place in fridge to set 1-2 hours.
TO ASSEMBLE
Spoon or pipe dots of lemon curd on a plate. Place the lemon sponge on top of the curd before adding a scoop of cucumber and lime sorbet. Top with a spoon of shaved gin and tonic mix. Garnish with lemon and orange zest and some micro-herbs. Serve immediately.
David Green is the executive chef of Victoria's Lindenderry at Red Hill.