RECIPE: Darren Purchese's gold chocolate and coffee cookies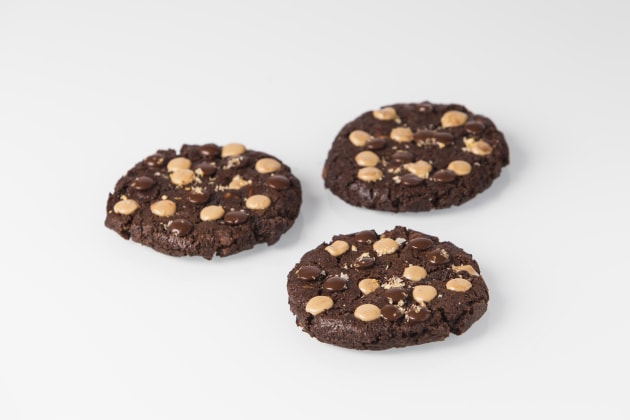 Pastry chef and founder of South Yarra's Burch & Purchese Sweet Studio, Darren Purchese, has partnered with Callebaut chocolate to create a special, Christmas recipe - gold chocolate and coffee cookies.
DARREN PURCHESE'S GOLD CHOCOLATE AND COFFEE COOKIES
Makes 18
220 g unsalted butter, softened
200 g soft light brown sugar
180 g caster sugar
1 tsp salt
1/2 tsp bicarbonate soda, sieved
2 eggs, whole
350 g plain flour, sieved
50 g cocoa powder
50 g coffee, freshly ground
150g Callebaut dark chocolate (plus extra for baking)
250g Callebaut gold callets (plus extra for baking)
Salt flakes
Method
Preheat oven to 170°C.
In a bowl, add the butter, brown sugar, caster sugar, salt and bicarbonate soda, and mix well for 2 minutes on a medium speed and then scrape down the sides. Mix for 3 minutes on a medium to high speed then scrape down sides. Add the eggs gradually while continuing to beat on a low to medium speed. Add all egg in and mix well before scraping down the sides. Add the flour, cocoa powder, coffee and chocolates and beat slowly until it is all incorporated. Divide the mixture into 85 gram balls and chill.
Bake in an oven for 17 minutes, remove from the oven and press gently with a weight. Add dark chocolate and gold chocolate buttons to the top and melt.