Recipe: Darren Leaney's olive oil Martini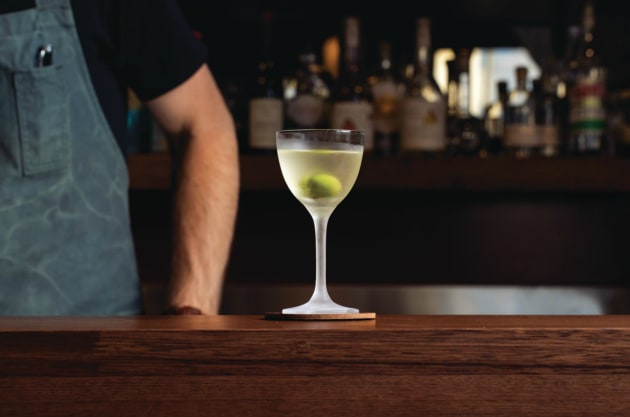 Capitano, Melbourne 
OLIVE OIL WASHED GIN
700 ml Melbourne Gin Co. Dry Gin
175 ml extra virgin olive oil (use the best you can afford)
METHOD Add ingredients to a vacuum bag and seal to full vacuum. Leave to infuse at room temperature for 24 hours. Once infusion time is finished, put the bag into the freezer and wait until the oil solidifies, then pass the gin through a coffee filter, ensuring that no oil drips through.
OLIVE LEAF BITTERS
25 ml dried olive leaves
100 ml Regan's orange bitters
METHOD Blitz leaves into coarse chips in a blender, add the chips to a vacuum bag with the orange bitters and seal to full vacuum. Cook sous vide for 1 hour at 52ºC. Once cooking time has passed, chill the vacuum-sealed bitters in an ice bath, then strain into a new bottle.
MARTINI
50 ml olive oil washed gin
15 ml Noilly Pratt
3 dashes olive leaf bitters
METHOD Add all ingredients to a mixing tin over cubed ice, stir until cold, strain into a chilled coupe glass with 2 Sicilian olives and finish with a twist of lemon squeezed over the glass and discarded.
Darren Leaney is the bar manager at Capitano. 421 Rathdowne St, Carlton VIC.
PHOTOGRAPHY: JAMES MORGAN