Recipe: Daniel Southern's duck frites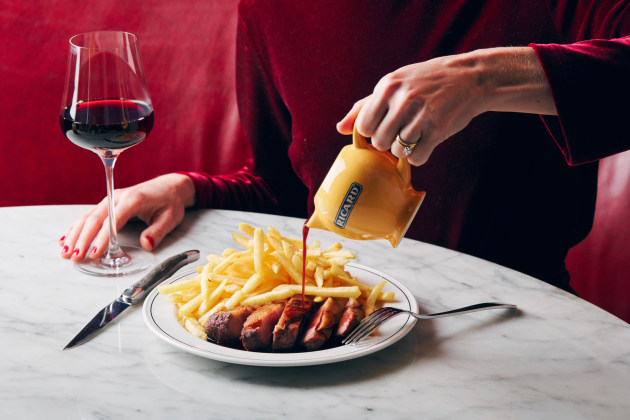 Bar Margaux, Melbourne – serves 4
Duck Cure
4 duck breasts, skin on, taken from whole ducks, bones reserved for jus
75 per cent salt
25 per cent sugar
Crushed white peppercorns to taste
Orange zest to taste
METHOD Cover the duck breasts in the curing mixture. Place in the refrigerator for one hour, then rinse and pat dry. Set aside until needed.
Duck jus
Duck bones
METHOD Cover duck bones with water in a pot. Gently boil until reduced, dark and thick. Strain and set aside.
Bearnaise
10 egg yolks
100 g shallots, peeled and thinly sliced
100 ml white wine
100 ml white wine vinegar
10 tarragon stalks
1 tbsp crushed white peppercorns
Clarified butter, melted and kept at room temp
Tarragon leaves, washed and finely chopped
Lemon juice to finish
METHOD Gently cook shallots, wine, vinegar, tarragon stalks and white pepper in a pot. Bring to a boil, then cool, strain and reserve. Place egg yolks and 1 tbsp of the cooled mixture into a Thermomix. Set at 65ºC and speed 4. When set temperature and speed are reached, slowly drizzle in the clarified butter until the consistency thickens slightly. Season with salt, pepper, chopped tarragon and a few drops of lemon juice. Set aside in a warm place.
1 packet English watercress
METHOD Lightly score the duck breast skin, season with salt. Warm a flat cast iron pan with a little oil and cook each breast slowly, skin side down, rendering and draining the fat as you go. Cook until golden and crisp, approximately 10 minutes. Turn breast over and seal for 30 seconds, and rest. Serve with fries, watercress, Bearnaise sauce, orange wedge, and a spoonful of duck jus over the meat.

 
Daniel Southern is the head chef at Bar Margaux, Melbourne.