RECIPE: Cornersmith's pickled asparagus with garlic and lemon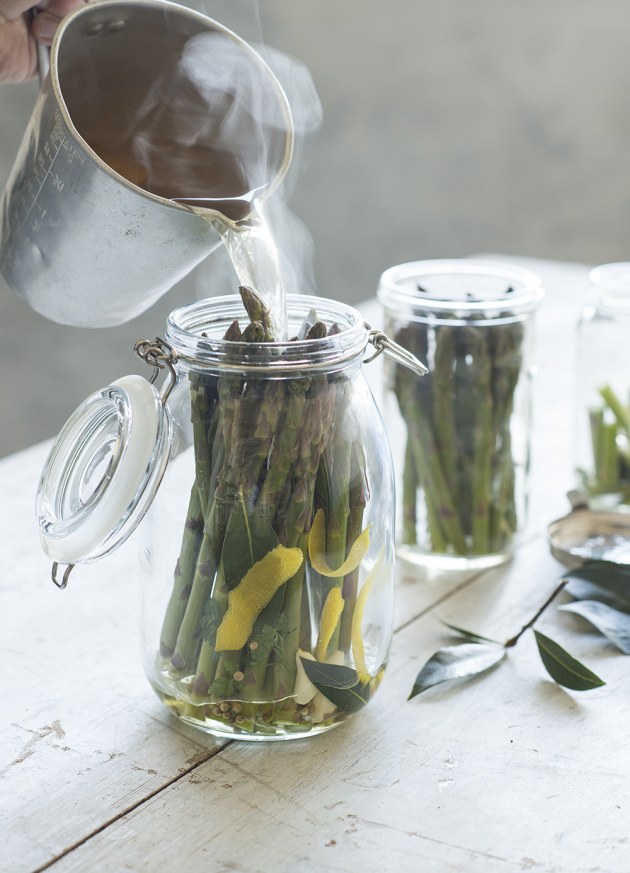 The team behind Sydney cafe, Cornersmith, have just released their second cookbook, Cornersmith Salads & Pickles: Vegetables with more taste & less waste. And to celebrate, Alex Elliott-Howery and Sabine Spindler are sharing their recipe for pickled asparagus with garlic and lemon with foodservice.
CORNERSMITH'S PICKLED ASPARAGUS WITH GARLIC AND LEMON
We like to make these pickles all through asparagus season in spring. They're great thinly sliced through salads, on an antipasto plate, or just straight out of the jar. Storing them in the fridge, rather than the cupboard, helps the asparagus retain its colour and crunch.
PREPARATION TIME
20 minutes, plus
20 minutes sterilising
STORAGE
3 months in the pantry, or 6 months in the fridge
MAKES
2 x 500 ml
(17 fl oz/2 cup) jars
375 ml (13 fl oz/1½ cups)
white wine vinegar
75 g (2½ oz/⅓ cup) sugar
11/2 teaspoons salt
375 ml (13 fl oz/1½ cups) water
4 thyme sprigs
4 bay leaves
4 garlic cloves, peeled
8 strips of lemon peel
1 teaspoon white peppercorns
about 20 asparagus spears
METHOD
Sterilise your jars and lids.
Meanwhile, make your brine by combining the vinegar, sugar, salt and water in a non-reactive, medium-sized saucepan. Place over low heat and stir to dissolve the sugar and salt. Add the thyme sprigs, bay leaves, garlic cloves, lemon peel strips and peppercorns and slowly bring to simmering point.
Wash and dry your asparagus. If the spears are very long, cut them in half.
When the jars are cool enough to handle, use a clean pair of tongs to add 4 lemon peel strips from the brine to each jar, along with 2 garlic cloves, 2 thyme sprigs, 2 bay leaves and 1/2 teaspoon peppercorns. Now carefully pack the raw asparagus in – you should be able to get about 10 spears into each jar.
Cover the asparagus with the hot brine, making sure the asparagus is completely submerged under the vinegar. Tuck the asparagus stems down under the shoulders of the jars if you need to.
Remove any air bubbles by gently tapping each jar on the work surface and sliding a clean butter knife or chopstick around the inside to release any hidden air pockets. Wipe the rims of the jars with paper towel or a clean damp cloth and seal immediately.
You can store these pickles in the cupboard for up to 3 months. We prefer to keep them in the fridge, as the cold helps the asparagus spears keep their crunch; they will last in the fridge for up to 6 months. Try to let them sit for 2–4 weeks before eating.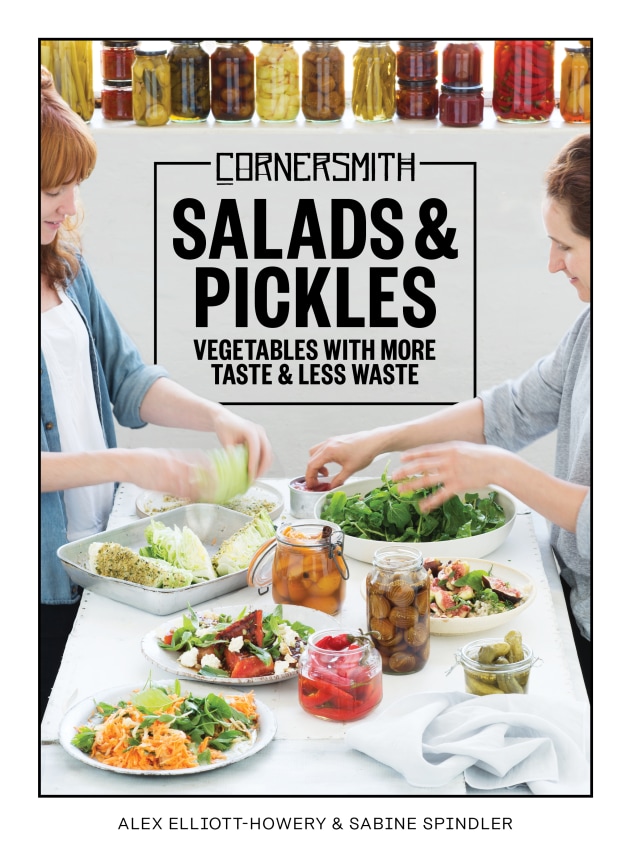 TIP
This is a good recipe for pickling any woody stems you have trimmed off asparagus while preparing the spears for steaming. Peel those woody end bits and cover them with this brine instead of tossing them in the bin or compost heap. Then toss them through a green salad!
Images and recipes from Cornersmith Salads and Pickles by Alex Elliott-Howery and Sabine Spindler (Murdoch Books, RRP $39.99). Photography by Alan Benson.