Recipe: Bar Liberty chef Casey Wall's cacio e pepe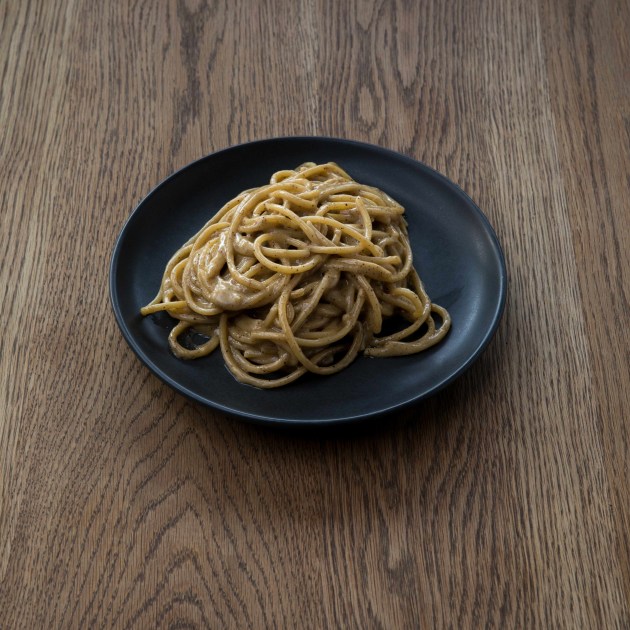 Serves four.
CACIO E PEPE
600 g bucatini
4 tbsp freshly ground black pepper, medium grind
8 tbsp olive oil
400 g Sicilian sheep's milk Pecorino, grated
650 ml pasta water (see below)
 
PASTA WATER
4 l cold water
60 g salt
3 tbsp semolina flour
METHOD
In a large pot put your pasta water on to boil with the salt and semolina flour added. Once boiling, add the pasta and simultaneously start to toast the pepper in a pan large enough to hold your cooked pasta.
When the pasta is just under al dente, drain, conserving the water. Return the pasta to the pot to keep warm.
Add 650 ml of the reserved pasta water to the pepper along with the olive oil (it will bubble violently).
Reduce the liquid mixture by about two-thirds. Working quickly, add the cooked pasta, then the Pecorino and stir rapidly until the cheese and liquid emulsifies into a sauce that coats the strands – you may need a little extra pasta water. Serve immediately.

NB: This is a recipe that seems simple, but the emulsification of the cheese and starchy pasta water can be trickier to achieve than you think. As soon as it's ready, you have to eat it or it will start to split.
Casey Wall is the head chef and co-owner of Melbourne's Bar Liberty.