Recipe: Andy Evans' pippies with pork and Shaoxing wine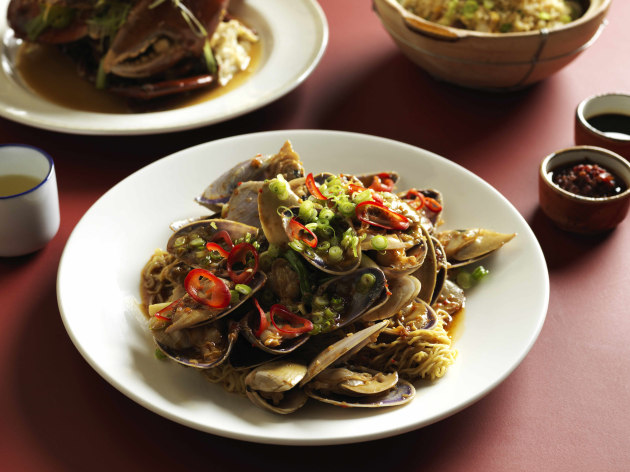 Chinese New Year is fast approaching, and restaurants across Australia are celebrating. Sydney's Spice Temple head chef Andy Evans has created a set-menu of Chinese-inspired big hits, including this punchy number.
Serves 4 as part of a shared banquet
Pippes with pork and Shaoxing wine:
500 g fresh pippies, cleaned
50 ml peanut oil or vegetable oil
100 g pork mince
1 small knob ginger, peeled and crushed
1 clove garlic, crushed
¼ tsp ground white pepper
1 tbsp white sugar
100 ml Shaoxing wine
30 ml light soy sauce
250 ml chicken stock or water
1-2 tsp cornstarch, dissolved in the chicken stock or water
3 shallots, cut into 1cm lengths
15 ml sesame oil
To serve: steamed jasmine rice (optional)
Method:
Bring 150 ml water to the boil in a medium pot, add pippies, cover for 1 minute, then crack the lid and cook until pippies open. Carefully drain and set aside. Heat oil in a wok over high heat, add pork mince and stir-fry until just cooked. Add ginger, garlic and ground white pepper and stir-fry for 1 minute. In a bowl, combine Shaoxing wine, white sugar, light soy sauce and cornstarch, then toss the mixture in the wok and stir to combine. Add reserved pippies and keep tossing until the sauce has reduced by half. Add shallots and sesame oil and transfer to a warmed plate. Serve with rice.