Luke Mangan's ice cream plum pudding with spiced poached cherries and bitter chocolate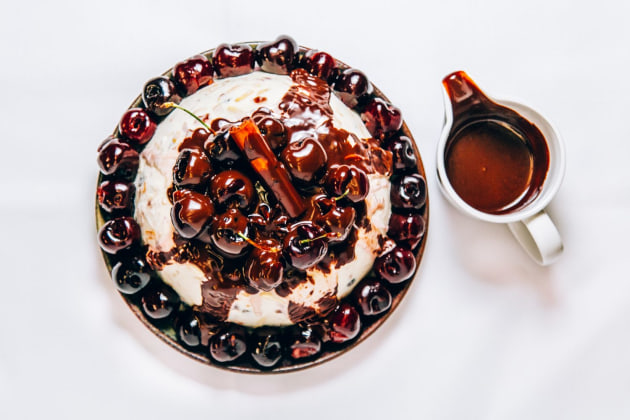 As the Luke Mangan Group gears up for the holiday season, restaurateur and chef Luke Mangan is helping Aussie restaurants and cafes to sharpen their Christmas menus with his recipe for ice cream plum pudding with spiced poached cherries and bitter chocolate.
LUKE MANGAN's ICE CREAM PLUM PUDDING WITH SPICED POACHED CHERRIES AND BITTER CHOCOLATE
Serves 6
1 ice cream plum pudding (recipe below)
Spiced poached cherries (recipe below)
120 g bitter chocolate 70% cocoa, melted (melt in a bowl over hot water or in a microwave on a low setting)
Plum pudding
1 l vanilla bean ice cream
6 tbsp slivered almonds, toasted
3 tbsp chopped maraschino or glace cherries
2 tbsp sultanas
2 tbsp chopped dried mango
½ tsp ground cinnamon
½ tsp ground nutmeg
½ tsp ground ginger
1 tbsp Irish cream liqueur
1 tbsp Cointreau
Method
Combine all the ingredients, except the ice cream, in a bowl and allow to stand for 1 hour to allow the flavours to infuse. Spoon the ice cream into the mix and mix with a spoon until everything has combined. Transfer to a ceramic bowl, cover with glad wrap and freeze overnight.
Spiced poached cherries
500 g cherries, stone removed
50 0ml water
125 g caster sugar
Pinch ground allspice
Pinch ground ginger
1 star anise
1 cinnamon stick, split in half lengthways
½ vanilla bean, split in half, beans scrapped out
Method
Place all the ingredients in a pan, bring to the boil and gently poach for approximately 5-8 minutes, or until the cherries have softened. Remove from the heat and allow to cool for all the flavours to infuse.If required, strain the poaching liquor and reduce in a pot on the stove until the liquor has thickened to the required consistency.
TO SERVE
Gently run some warm water over the base of the plum pudding bowl, release with a knife around the side and turn out onto a plate. Lay the poached cherries around the edge, using the star anise, cinnamon and vanilla pod from the poaching mix to garnish the pudding. Pour the slightly warmed chocolate over the pudding and serve.
Luke Mangan is the director of the Luke Mangan Group, whose portfolio of venues includes glass brasserie, Luke's Kitchen and Chicken Confidential.